Thornbury Chamber of Commerce
Next event
Wednesday 13th November 2019
---

How to contact the Chamber
Zoe Gilbraith, Thornbury Chamber of Commerce Secretary
c/o Bonds of Thornbury, 14 The Plain, Thornbury BS35 2BD
Tel: 07949 005361
Email:
Web: www.thornburychamber.org.uk
Facebook: www.facebook.com/pages/Thornbury-Chamber-of-Commerce

Click here to download a Chamber membership application form.


Latest News:
Dementia Charity Coffee Morning a Great Success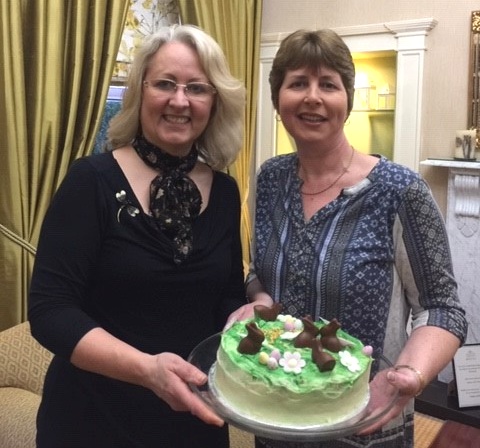 Dementia Uk received a donation from Alveston House Hotel, a privately owned Hotel near Thornbury, of £357.00 following their cake sale on Saturday 2nd March 2019.
The staff of Alveston House all baked for the Charity Coffee morning which was a huge success.
Carole Crawshaw, General Manager said "We were delighted with the amount raised and I am extremely proud of the team for the effort that they all put into making our first event of this kind such a success."
The photograph shows Miya Heyward (right) – winner of the 'guess the weight of the cake competition' with Carole Crawshaw (left).
To find out more about Alveston House Hotel, click here.


International cricket success at Tockington Manor School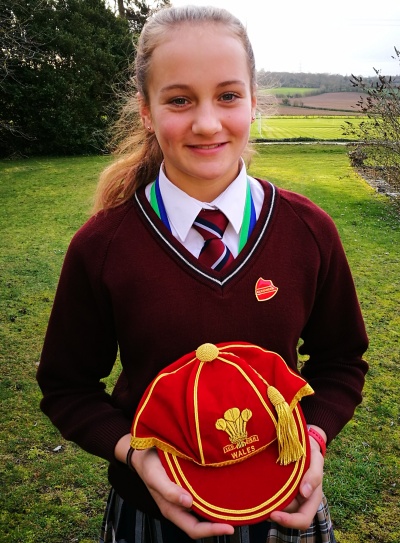 Tockington Manor School continues to build on their cricketing success as a pupil earns their first cap for Cricket Wales. Alys, who is in Year 8, was selected to represent Wales in their Under 12 cricket team last summer.
Stephen Symonds, Headmaster said "We're incredibly proud of Alys. Cricket is a popular activity at the school and we encourage all of our pupils to get involved in the sport. Alys has trained hard for this and we wish her the best of luck for her matches this summer."
The school introduced a programme of cricket to the girls a number of years ago and committed to teaching it within the PE timetable in 2018. The weekly winter training sessions, held after school are incredibly popular amongst all pupils. These weekly sessions are run throughout the winter by Gloucestershire coach, Owen Dawkins in preparation for a busy summer term of cricket fixtures.
The 28 acres of school grounds include a cricket pitch and Pavilion which plays hosts to school matches, county age groups and regular fixtures for Thornbury CC. The school have strong links with Thornbury, with many pupils attending their cricket training from a young age.
The school have a close association with Gloucestershire CCC with pupils attending matches and even acting as match day flag bearers. In December one training session was joined by Gloucestershire County cricketer David Payne who said "It was a privilege to visit the school and it is always great to see youngsters enjoying cricket. I was really impressed with their enthusiasm and some of the more tasking questions they asked."
Current pupils have also been named in District and County Cricket squads. One pupil has been awarded a sports scholarship to Clifton College specialising in cricket. The school has an enviable success rate in delivering entry into their first choice senior schools with many being awarded scholarships in Academia, Sport, Music, Drama and Design Technology.


Stand out performance by Tockington at the Severnside Cross Country Championships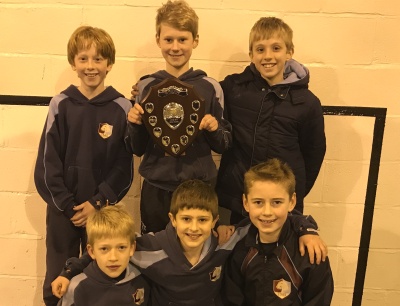 Tockington Manor School sent a strong group of runners to the Severnside Cross Country Championships at Wycliffe College on Tuesday 5 February.
All 4 of our teams finished on the podium after an excellent display on a testing Championship course. The U11 ran 1800m with the U13 age group running 2700m both courses including a testing long hill on each of the laps.
The U11 Boys won their event and winning the Severnside Shield with a terrific team effort. All of the boys coming in the top 12 places out of over 40 runners. Congratulations to Alex 2nd, Barney 4th, Jenson 5th, Joshua 9th, Cole 11th and Alex 12th on their impressive win.
The U11 Girls were led home by Georgia 2nd with Talia coming home in 10th, they were 3rd overall.
The U13 Boys were also 3rd in the team race with Juan 2nd and Billy 8th.
The U13 Girls, also 3rd overall, were led home by Alys 6th, Angel 7th and Katie 8th.
Mr Jones, Deputy Head/Head of Boys Sport said "A great afternoon with performances epitomising the Tockington spirit!"


Thornbury Gift Vouchers
Thornbury Chamber of Commerce has created Thornbury Gift Vouchers, ideal for family and friends.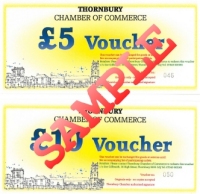 These vouchers can be used in any Chamber member business and can be bought in Gems, Hawkes House, Finishing Touches and Bonds.
The vouchers are also perfect as promotional gifts, raffle prizes and for companies to offer as presents for employees.
Each £5 or £10 voucher comes with a copy of the hand-drawn Thornbury Town Map, which lists the wide range of local shops and businesses where you can spend the vouchers.
If you have vouchers spent in your business, just contact Zoe at and she will collect and reimburse you for the vouchers.


Thornbury Shoppers Guide
Keep an eye out around Thornbury for the latest Shoppers Guide, produced by Thornbury Chamber.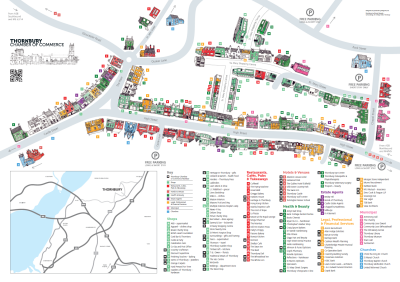 It features a beautiful multi-coloured hand-drawn map of the town, created by Richard Edwards from Surroundings, and listing key shops, businesses restaurants and venues.
On the back you'll find adverts from shops and businesses that have contributed towards the cost of the guide, which is free to shoppers.
There's also information about Thornbury's key events and festivals, and the Chamber of Commerce.
Click here to download a low-resolution version of the map, or pick up a copy when you're next shopping in Thornbury.


Thornbury Town Centre Map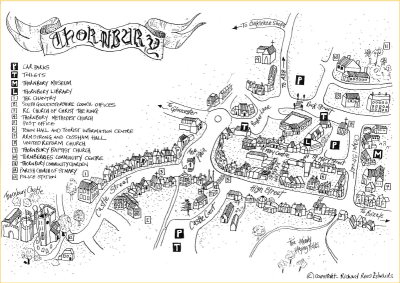 You can print off the 2013 version of a delightful map of Thornbury.
The map has been beautifully hand drawn by Richard Rees-Edwards of Surroundings on behalf of the Chamber of Commerce, and features key buildings and services.
Copies of the map are available around Thornbury, or click here to print your own.
The back of the map shows Chamber members click here to print the list.


About Thornbury Chamber
Thornbury Chamber exists to:
promote common support among the business community

encourage working to the mutual benefit of members

provide a collective voice in discussions with local authority and other agencies

encourage a high standard of excellence in business

help businesses increase their trade

help and encourage the promotion of Thornbury and its commerce
An established Chamber for more than 40 years, its members pride themselves on the position it enjoys as a respected and influential body within the town.
If you want have your say where and when it counts, then how better than through the Thornbury Chamber of Commerce?
The Chamber holds Quarterly General Meetings, one of which is an Annual General Meeting, usually held in Spring.
Occasionally special meetings are called to deal with specific developments, which may be important to the commercial landscape of Thornbury.
Meetings are open to members only.
All Thornbury Chamber members have access to the facilities of Bristol Chamber of Commerce. Visit their website for the latest business news and information: www.businesswest.co.uk


Offers from Chamber Members:

Johnson and Furze Opticians and Optometrists offer independent businesses in Thornbury a 15% discount off the cost of any spectacles. Call 01454 411760.

Thornbury Chiropractic Clinic offers special rates for all staff of Thornbury Chamber of Commerce members. Free initial consultation, £20 per session for up to four sessions. Standard consultation fee £32, standard treatment fee £32. Call 01454 418259 and quote ref: Chamber.
For more offers from Chamber members open to all, please see the offers page


Empty Business Premises in Thornbury
For details of current properties available to rent or buy, please visit the Thornbury Chamber website.





Forthcoming events
Wednesday 13th November 2019
Saturday 23rd November 2019