Thornbury Chamber of Commerce
Next event
Thursday 29th November 2018
Late Night Christmas Shopping Evening in Thornbury
Thornbury Town Centre
Many of Thornbury's shops and businesses will be staying open until 9pm on November 29th for you to browse and buy your Christmas presents conveniently.
There'll also be musicians in and around the High Street and the St Mary Centre during the evening to entertain you.
Start off your Christmas shopping with a leisurely stroll around your local shops and hostelries, join in the Christmas spirit and support local businesses too.
You'll also be able to enter a raffle to win Thornbury vouchers to spend in town on Small Business Saturday - December 2nd.
Thornbury Chamber of Commerce has played an active part in the local business community for over 40 years, with the aim of promoting Thornbury as a whole and encouraging trade into the... Read more >>
www.mythornbury.co.uk/thornbury/t...

---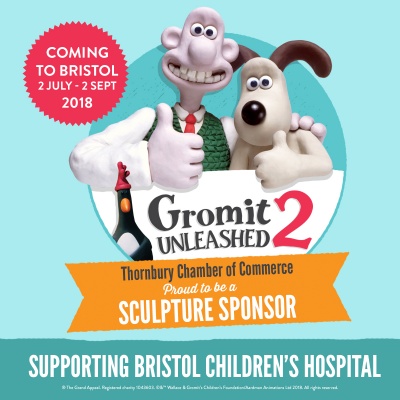 How to contact the Chamber
Zoe Gilbraith, Thornbury Chamber of Commerce Secretary
c/o Bonds of Thornbury
14 The Plain, Thornbury BS35 2BD
Tel: 07949 005361
Email:
Web: www.thornburychamber.org.uk
Facebook: www.facebook.com/pages/Thornbury-Chamber-of-Commerce

Click here to download an application form [.pdf]


Latest News:
Gromit Unleashed 2 locations revealed!
Wallace & Gromit's Grand Appeal, the Bristol Children's Hospital charity, has revealed the locations and sponsors for its sixty-plus sculptures of Academy Award®-winning characters Wallace, Gromit and Feathers McGraw that will descend onto Bristol and its surrounding area later this summer.
From 2nd July until 2nd September, trail visitors can expect to see over sixty sculptures, each individually designed and decorated by high-profile artists, designers, innovators and local talent, spread across the city and the surrounding areas. Thornbury represents the most northerly point, with Avon Valley Country Park and Chew Valley marking the East and West boundaries respectively, and Weston-super-Mare in the South.
Nicola Masters, Director of The Grand Appeal said: "We are incredibly fortunate to live in such a wonderfully diverse city, and we are proud to showcase as much of beautiful Bristol and its surrounding areas as possible through our third charity arts trail.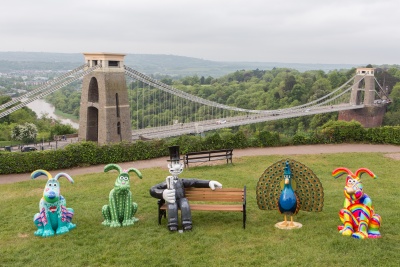 "Over the last year, we have worked with our amazing sponsors, local community groups and the council to determine the best locations for each sculpture. It's only with the support from our local community that we can continue to support sick children and their families at Bristol Children's Hospital, so we are delighted that we are able to give something back to our supporters."
St Marks Road in Easton, the Royal Fort Gardens at the University of Bristol, Hartcliffe Community Park farm and Puxton Park are four of many locations taking part in The Grand Appeal's trail for the first time, with Clifton Suspension Bridge, Temple Meads and The Mall at Cribbs Causeway returning for a third time to host a giant, iconic Aardman sculpture. With the locations spread across the city, visitors to the trail will be able to find, learn about and even interact with sculptures by discovering 'trails within trails' across the North, East, South and West of Bristol. A printed map, available at the Gromit Unleashed shop at The Mall at Cribbs Causeway, selected locations across the city, and in The Bristol Post, will be available at the start of July.
A Gromit Unleashed 2 app will be available to help avid trail fans to hunt down sculptures, while a special passport trail will be created to celebrate the trail's innovation themes. New Gromit Unleashed 2-inspired products, including the popular figurines, will be available for purchase with all proceeds benefiting patients and families cared for by Bristol Children's Hospital and the Neonatal Intensive Care Unit at St Michael's Hospital.
Nicola said: "Raising money to support Bristol Children's Hospital and the Neonatal Unit is at the heart of everything we do, and we want to highlight how lucky we are to have a world class children's hospital on our doorstep. Every single penny donated, raised and spent during Gromit Unleashed 2 will help us to support sick children, babies and their families who come from not just Bristol, but from across the whole of the South West and South Wales for lifesaving care."
As well as the returning popular elements, The Grand Appeal has revealed that new, unprecedented trail 'innovations' will keep trail fans on their toes.
Nicola added: "Our dedicated 'Trailblazer' partners – Rolls-Royce, Renishaw, University of Bristol and Creditcall – are busy working away to create some very special sculptures for our eager trail fans. You'll have to wait a few more weeks before we reveal more – it wouldn't be a Grand Appeal trail without a few surprises!"


Gromit Unleashed 2 Trail – Comes to Thornbury!
In summer 2018, prepare for Gromit Unleashed 2, where Nick Park's beloved Gromit will be joined by pal Wallace and arch nemesis Feathers McGraw in an exciting sculpture trail in Bristol!

From Monday 2nd July until Sunday 2nd September 2018, over 60 giant sculptures designed by artists will descend on Bristol and will raise money for Bristol Children's Hospital and the Special Care Baby Unit at St Michael's Hospital.
Thornbury Chamber of Commerce is pleased to announce that we will be taking part in the Gromit Unleashed 2 trail and a sculpture will be somewhere in the town.
Where it will be remains a secret until the grand reveal, but keep a look out for more information on our Chamber facebook page and our website www.thornburychamberofcommerce.org.uk ss well as the official Gromit unleashed website.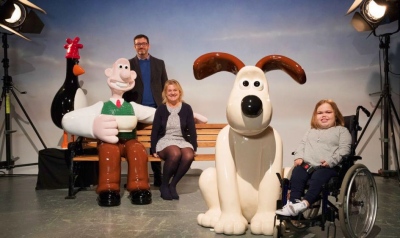 We would especially like to thank the following without whom we would not have been able to raise the necessary funds to enable Thornbury to take part: The Peer Group (St Mary Centre), Thornbury Chamber of Commerce, Thornbury Town Council, The Lions Club of Thornbury, The Rotary Club of Thornbury, The Friends of Thornbury Carnival, Cadman Wealth Planning, Bonds of Thornbury, Milburys, Gems, Papilio at Heritage, Star Legal, Barcan + Kirby, The Wheatsheaf, Bramley & Gage, Guy Rawlinson & Andrea Bates, Anon Thornbury Residents
We will be having fun activities and fund raising events during the Trail, so keep a look out for what is happening near you!
(L-R): Dr Giles Haythornthwaite (Emergency Department Consultant at Bristol Children's Hospital); Nicola Masters (Director of The Grand Appeal) and Leah Dunn (Aardman super-fan and Bristol Children's Hospital patient) at the launch of Gromit Unleashed 2.


Thornbunny 2018 Winners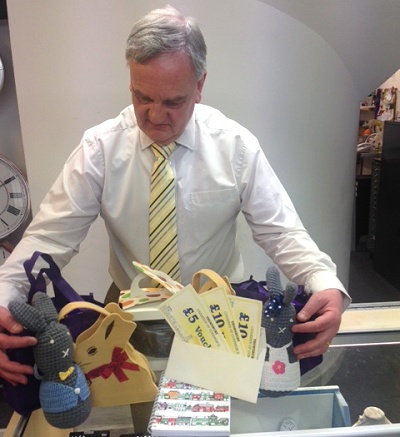 The winners of the prize draw for the Thornbunny Trail are:
Lily Gainer of Dursley – wins £25.00 Thornbury Voucher and a Thornbury Note Book.
Matthew Davies of Rangeworthy – wins a Luxury Belgian Chocolate Easter Egg
from Papilio at Heritage
Oliver Hall of Thornbury – wins a Lindt Bunny
Harry Sayce of Thornbury – wins a Cadburys Goodie Bag
Claire Stephens of Thornbury – wins a Lindt Bunny
Anya Beaugie of Thornbury – wins a Cadburys Goodie Bag
The photograph shows Mike Horton (Vice Chair of Thornbury Chamber of Commerce) with Mr & Mrs Thornbunny with the prizes just prior to the draw taking place.
We have had good feedback from the local businesses and the public that they enjoyed the bunny hunt.
The Chamber of Commerce would like to thank everyone who took part and hope the public found the event opened their eyes to what is available in our local environment.
Here is a comment from one of the entry forms: "Some Rabbits hard to find, names very appropriate for shops – met lots of friends and found places in Thornbury I didn't know existed and found items in shops I didn't know they stocked … enjoyable Trail. Thank you".


Thornbury's 2018 Events Postcard
With the generous support of Thornbury Town Council, Thornbury Chamber has produced a new free postcard to let everyone know about key events coming up in Thornbury throughout 2018.
Past versions of the postcard have featured various picturesque images of the town.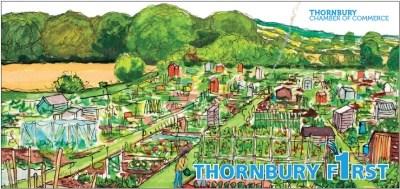 This year we are proudly displaying a view of Daggs allotments, drawn and kindly supplied by Richard Edwards at Surroundings.
These postcards are now available to pick up in shops and businesses in and around Thornbury for free - keep an eye out for yours!


Thornbury Gift Vouchers
Thornbury Chamber of Commerce has created Thornbury Gift Vouchers, ideal for family and friends.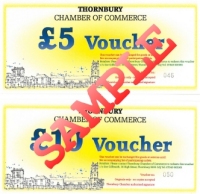 These vouchers can be used in any Chamber member business and can be bought in Gems, Hawkes House, Finishing Touches and Bonds.
The vouchers are also perfect as promotional gifts, raffle prizes and for companies to offer as presents for employees.
Each £5 or £10 voucher comes with a copy of the hand-drawn Thornbury Town Map, which lists the wide range of local shops and businesses where you can spend the vouchers.
If you have vouchers spent in your business, just contact Zoe at and she will collect and reimburse you for the vouchers.


Thornbury Shoppers Guide
Keep an eye out around Thornbury for the latest Shoppers Guide, produced by Thornbury Chamber.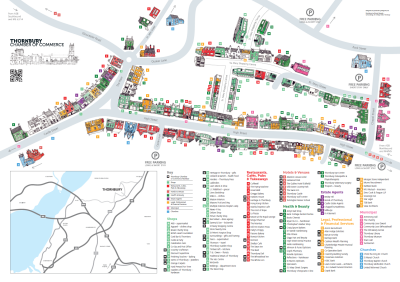 It features a beautiful multi-coloured hand-drawn map of the town, created by Richard Edwards from Surroundings, and listing key shops, businesses restaurants and venues.
On the back you'll find adverts from shops and businesses that have contributed towards the cost of the guide, which is free to shoppers.
There's also information about Thornbury's key events and festivals, and the Chamber of Commerce.
Click here to download a low-resolution version of the map, or pick up a copy when you're next shopping in Thornbury.


Thornbury Town Centre Map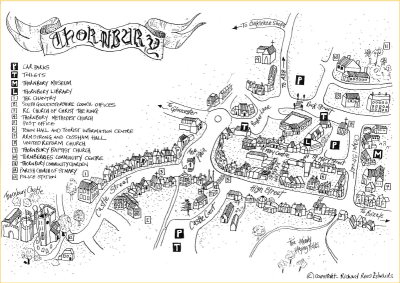 You can print off the 2013 version of a delightful map of Thornbury.
The map has been beautifully hand drawn by Richard Rees-Edwards of Surroundings on behalf of the Chamber of Commerce, and features key buildings and services.
Copies of the map are available around Thornbury, or click here to print your own.
The back of the map shows Chamber members click here to print the list.


About Thornbury Chamber
Thornbury Chamber exists to:
promote common support among the business community

encourage working to the mutual benefit of members

provide a collective voice in discussions with local authority and other agencies

encourage a high standard of excellence in business

help businesses increase their trade

help and encourage the promotion of Thornbury and its commerce
An established Chamber for more than 40 years, its members pride themselves on the position it enjoys as a respected and influential body within the town.
If you want have your say where and when it counts, then how better than through the Thornbury Chamber of Commerce?
The Chamber holds Quarterly General Meetings, one of which is an Annual General Meeting, usually held in Spring.
Occasionally special meetings are called to deal with specific developments, which may be important to the commercial landscape of Thornbury.
Meetings are open to members only.
All Thornbury Chamber members have access to the facilities of Bristol Chamber of Commerce. Visit their website for the latest business news and information: www.businesswest.co.uk


Offers from Chamber Members:

Johnson and Furze Opticians and Optometrists offer independent businesses in Thornbury a 15% discount off the cost of any spectacles. Call 01454 411760.

Thornbury Chiropractic Clinic offers special rates for all staff of Thornbury Chamber of Commerce members. Free initial consultation, £20 per session for up to four sessions. Standard consultation fee £32, standard treatment fee £32. Call 01454 418259 and quote ref: Chamber.
For more offers from Chamber members open to all, please see the offers page


Empty Business Premises in Thornbury
For details of current properties available to rent or buy, please visit the Thornbury Chamber website.


Castle School Premium Partners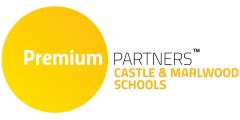 The Chamber is delighted to be one of the Castle School's Premium Partners, and enjoys supporting students' education from a business perspective.