Thornbury Chamber of Commerce
Contact Thornbury Chamber
Zoe Gilbraith, Thornbury Chamber of Commerce Secretary
c/o Bonds of Thornbury, 14 The Plain, Thornbury BS35 2BD
Tel: 07949 005361
Email:
Facebook: www.facebook.com/pages/Thornbury-Chamber-of-Commerce

Latest Chamber News:
Thornbury High Street Closure - Luke Hall MP's Survey
Luke Hall MP says: "South Gloucestershire Council have introduced temporary changes to Thornbury High Street as part of the measures designed help protect against coronavirus as lockdown restrictions are eased.
I am conducting a survey on what further changes are needed, which I will present to decision makers at the Council.
Click here to complete the survey.


Thornbury High Street Closure - July Update
More changes have been made to access through and around Thornbury High Street.
Click here to read more.
A full consultation for the scheme will start in August.


Thornbury High Street Closure Petition
A Thornbury resident has launched a petition against the closure of Thornbury High Street to vehicles.
The reason given by South Gloucestershire for the closure was COVID-19, but businesses along the High Street say it threatens their future.
To read more and sign the petition, click here - or to download and print a paper copy, click here.


Letter to the Council re Thornbury High Street
Thornbury Chamber of Commerce, in conjunction with businesses situated in Thornbury High Street and the surrounding area, have sent a letter to South Gloucestershire Council objecting strongly to the closure of the High Street to vehicles.
The letter outlines issues such as businesses having problems with deliveries, disabled people being unable to access the High Street, dangers to pedestrians from cyclists and the loss of parking spaces.
Business owners who have remained open in and near to the High Street say they have already seen a drastic drop in trade since the closure (30-50% compared to the rest of lockdown) - a loss that is not sustainable.
Click here to read the letter.


Pedestrianisation of Thornbury High Street
South Gloucestershire Council closed Thornbury High Street to traffic on Monday 8th June.
Here is the link to their news item.
Thornbury Chamber says: "Your local shopkeepers are very appreciative of your support and would like your backing now.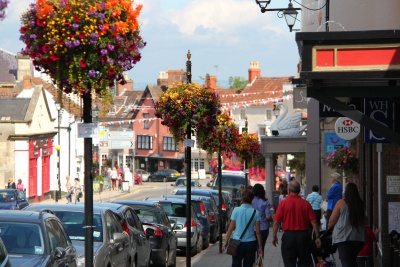 Closing the High Street to traffic has a huge impact on our footfall as has been proved many times; people do not come to the shops, car parks are too far away for many of our less active members of the public to walk there and deliveries, particularly to the businesses on the side of the High Street backing onto the Mundy Playing fields, are impacted as they have no back access for deliveries.
Our High Street is our life blood, it is a particularly pretty part of our Town and encourages people to stop and browse when they drive through.
Parking is always (under normal circumstances) difficult so removing the parking in the High Street also impacts visitors to the town.
Your local businesses have been working exceptionally hard during the lockdown trying to find new ways of providing a service to you all.
They do not need or WANT the High Street to be closed to traffic.
Photo courtesy of Horders - Thornbury Press
Take away services are impacted as you can no longer drive up and pick up your takeaway.
Many shops are arranging click and collect services for those of you who do not want to go into shops just yet. This will be impacted too.
Please support your local businesses by contacting your local councillors in Thornbury and South Gloucestershire, telling them to please reverse the action.
Here is some suggested wording:
Closure of Thornbury High Street to all Traffic
We the undersigned object strongly to the Closure of The High Street to all traffic and buses.
The movement of traffic to and through The High Street provides the lifeblood of Thornbury. 
Many businesses will not survive.
A better solution could have been found with consultation.
Please send this to: Councillor Jayne Stansfield , Councillor Maggie Tyrrell , and .
The measures are starting as temporary but the aim is not to revert back unless there is a very good reason to, so please be aware this will be the end of the High Street as we know it."


Local charity launches major appeal for survival
Brain Tumour Support, a charity that has been headquartered in Thornbury for the last 17 years, has launched an urgent appeal to ensure its survival. The charity, which supports thousands of brain tumour patients and their families across the country, including many in the local area, has had to furlough the majority of its staff and suspend much of its service across the country. Brain Tumour Support now faces the prospect of leaving hundreds of vulnerable people without support if vital funds are not raised in the next two months.
"It breaks my heart to know that there are patients and families out there that need our help but we do not have resources to support them," said Tina Mitchell Skinner who founded the charity 17 years ago after losing her husband to a brain tumour (pictured with Jane Edwards who received support from the charity after she was diagnosed with a brain tumour).
"Brain Tumour Support has grown every year to help more people. We had exciting plans to further extend our support services and then the pandemic hit. This also coincided with funding from Macmillan England coming to an end, so for us it was a double blow. We rely solely on voluntary donations and have an amazing army of fundraisers, but most of the events and activities they were planning have had to be cancelled or postponed, so our income has plummeted."
This decrease in income also comes at a time when Brain Tumour Support has seen a huge increase in demand for its services. The lockdown has not only increased isolation for brain tumour patients, it has also delayed many people receiving diagnoses or treatment. This means the charity is expecting an even larger increase in demand for its services once lockdown measures are eased. Coming to terms with a brain tumour diagnosis is a worrying and difficult time under any circumstances, but coping with the symptoms, treatments, the physical and emotional impact whilst also dealing with a pandemic is a terrifying experience for both patients and their loved ones.
Brain Tumour Support has adapted its services to try and help as many people as possible, but many vital aspects of its work have had to be put on hold. It now offers a limited number of video chats instead of support groups and has managed to keep its telephone support line and on-line support forum open for the time being. But in order to survive and bring back its support services to the level they were before the COVID-19 pandemic, it urgently needs donations from individuals, organisations and companies.
"We are currently working with over 1,500 patients and carers requiring critical and intensive support with many more waiting for help," said Mrs Mitchell Skinner. "As well as patients who need our help, many NHS staff are also supported by us, as we provide a service that they simply do not have the resources to provide. We know these are challenging times for many people, but we are calling on you to consider making a donation, however much you can afford. Supporting us with a donation now, more than ever, will enable us to navigate through this devastating period so that we can survive, and continue to provide our crucial services now, and in the future."
People supported by the charity include Richard, who says Brain Tumour Support saved his life; Jane, who says the charity gave her her life back; Sammie and her children who received bereavement counselling and say that 'thank you' will never seem enough; and Chris who says he doesn't feel so isolated in his condition any more.
Can you help Brain Tumour Support be there for more people like Richard, Jane, Sammie and Chris? To find out how you can get involved or to make a donation to the Together We Are Stronger Appeal please go to the charity's website: www.braintumoursupport.co.uk/appeal


Mortgage Advice Bureau Supports NHS Workers
John Skipp from Mortgage Advice Bureau is now offering fee free advice for all NHS staff on a permanent basis.
No conditions, no restrictions, no minimum loans, just free advice.
It's a permanent thing so those who may have mortgages fixed for another year or two don't miss out!
John is also trying to support some of our local charities and is having posters put up in local hospitals to help support Made A Mark. Any NHS staff who see the poster at work will get free advice and John will donate £50 to Made A Mark for each mortgage that completes.
John says: "Many small charities are really struggling at the moment as they have had to cancel fund raising activities and are still trying to provide essential services with greatly reduced funding.
It is amazing all the wonderful work people have done raising money for the NHS charities but some of the smaller charities also provide essential support and have been hit hard by this.
To find out more about John Skipp and the Mortgage Advice Bureau, click here.


Join the Chamber
Business is our concern...
We welcome new members who have an active interest in supporting and promoting Thornbury and its businesses.
Please note that new members must be proposed by an existing member. If, however, you would like to join and do not have a proposer, please do contact us and we would be pleased to consider your application.
For a nominal fee (£35 per year in 2020) you will be kept informed of local and national issues, and there are bi-monthly meetings where you can meet other like-minded business people and discuss current and upcoming issues.
We also hold lunch meetings to encourage local retailers and businesses to discuss and swap ideas to promote Thornbury as a whole.
If you are interested in becoming a member and would like more information about the Chamber please contact the secretary.
Click here to download a Chamber membership application form.


Events
The Chamber hold bi-monthly meetings, one of which is an Annual General Meeting which is usually held in the Spring. See the top and bottom of this page for details of upcoming events.
Occasionally special meetings are called to deal with specific developments which may be important to the commercial landscape of Thornbury.


Thornbury Gift Vouchers
Thornbury Chamber of Commerce has created Thornbury Gift Vouchers, ideal for family and friends.
These vouchers can be used in any Chamber member business and can be bought in Gems, Hawkes House, Finishing Touches and Bonds.
The vouchers are also perfect as promotional gifts, raffle prizes and for companies to offer as presents for employees.
Each £5 or £10 voucher comes with a copy of the hand-drawn Thornbury Town Map, which lists the wide range of local shops and businesses where you can spend the vouchers.
If you have vouchers spent in your business, just contact Zoe at and she will collect and reimburse you for the vouchers.


Thornbury Guide and Map
The Chamber has spent considerable time putting together a shoppers guide and map for Thornbury High Street, St Mary Centre and the surrounding streets.
The high quality map has been hand drawn by Richard Edwards of Surroundings in Thornbury.
The map and guide shows the location of many of the local businesses and retail outlets in the town and is aimed at visitors to the local area. It also gives an indication of key events are organised annually in the town.
On the back you'll find adverts from shops and businesses that have contributed towards the cost of the guide, which is free to shoppers.
The map has been distributed to local outlets and to surrounding hotels, the aim being to ensure visitors to the surrounding area are made aware of the beautiful town on their doorstep. Anyone who would be interested in stocking some maps to give out to visitors please contact the Chamber.
Click here to download a low-resolution version of the map, or pick up a copy when you're next shopping in Thornbury.


Thornbury Town Centre Map
You can print off the 2013 version of a delightful map of Thornbury.
The map has been beautifully hand drawn by Richard Rees-Edwards of Surroundings on behalf of the Chamber of Commerce, and features key buildings and services.
Copies of the map are available around Thornbury, or click here to print your own.
The back of the map shows Chamber members click here to print the list.


About Thornbury Chamber
Thornbury Chamber exists to:
promote common support among the business community

encourage working to the mutual benefit of members

provide a collective voice in discussions with local authority and other agencies

encourage a high standard of excellence in business

help businesses increase their trade

help and encourage the promotion of Thornbury and its commerce
The Thornbury Chamber of Commerce draws its strength from its diversity of membership.
An established Chamber for more than 40 years, its members pride themselves on the position it enjoys as a respected and influential body within the town.
If you want have your say where and when it counts, then how better than through the Thornbury Chamber of Commerce?
The Chamber holds Quarterly General Meetings, one of which is an Annual General Meeting, usually held in Spring.
Occasionally special meetings are called to deal with specific developments, which may be important to the commercial landscape of Thornbury.
Meetings are open to members only.
All Thornbury Chamber members have access to the facilities of Bristol Chamber of Commerce. Visit their website for the latest business news and information: www.businesswest.co.uk


Offers from Chamber Members:
Johnson and Furze Opticians and Optometrists offer independent businesses in Thornbury a 15% discount off the cost of any spectacles. Call 01454 411760.
Thornbury Chiropractic Clinic offers special rates for all staff of Thornbury Chamber of Commerce members. Free initial consultation, £20 per session for up to four sessions. Standard consultation fee £32, standard treatment fee £32. Call 01454 418259 and quote ref: Chamber.
For more offers from Chamber members open to all, please see the offers page


Premises
Eastwood Park, Falfield GL12 8DA has office space available with ample car parking in a glorious setting in the grounds of a Victorian mansion.
They offer serviced Victorian period office accommodation in The Coach House comprising 1600sq.ft.
For more information, contact: Lin Willis on 01454 262796.


The St Mary Centre was built in 1984 and has since been the main focus for retailing in the town.
Shortly after its construction the scheme won a Conservation Award for its design, which incorporated several historic buildings, such as the old grammar school.
The centre, which is formed by three pedestrianised malls or walkways, is anchored by an Aldi supermarket. Other occupiers include WH Smith, Lloyds Pharmacy, Store 21 and M&Co fashions, Greggs and Holland & Barrett, together with branches of HSBC and TSB.
The adjacent, free of charge, Rock Street car park has 350 spaces, and the centre is actively managed by on-site staff.
Various units are avaiable to rent. For further information on size and costs contact:
Helen Bax or Paul Sugitt
Carter Baynes
25/26 Berkeley Square, Clifton, Bristol BS8 1HP
Tel: 0117 929 0033 or Fax: 0117 929 0137
e-mail: or e-mail:


Thornbury Chamber's History
It is testament to the fact that the Thornbury Chamber of Commerce is a long established organisation that one of its founder members, Mr Dick Shipp, can only give a rough date to its first meeting being somewhere between the late 1950s and early 1960s.
Originally meetings were held in the Church Institute building, and then around the town on a rota basis, as now. This gives members the chance to sample different conference facilities in and around Thornbury and the hosting members the opportunity to promote their business.
Meetings are now held bi-monthly and continue to give members an opportunity to discuss and influence the direction of business in Thornbury - So take the time to get involved and join the Thornbury Chamber of Commerce - it's part of Thornbury's history.
Special thanks to Mr D Shipp for his kind assistance


Useful Links
The St Mary Centre - Thornbury's Shopping Centre
Thornbury in Bloom - enhancing Thornbury life with plants
www.businesswest.co.uk - A not-for-profit company helping businesses in our area start and grow
Thornbury Chamber members have access to the facilities ofBristol Chamber of Commerce
www.insouthglos.co.uk - South Gloucestershire Council's inward investment and business support portal
South Gloucestershire Council's Core Strategy 2006-2027
Thornbury Chamber of Commerce Members:
---