Thornbury Chamber of Commerce
Next event
Tuesday 13th November 2018
---

How to contact the Chamber
Zoe Gilbraith, Thornbury Chamber of Commerce Secretary
c/o Bonds of Thornbury, 14 The Plain, Thornbury BS35 2BD
Tel: 07949 005361
Email:
Web: www.thornburychamber.org.uk
Facebook: www.facebook.com/pages/Thornbury-Chamber-of-Commerce

Click here to download a Chamber membership application form.


Latest News:
Thornbury Chamber of Commerce Mini Gromit Hunt
The summer is over and our lovely Honeysuckle Rose has gone off to join the rest of the Sculptures at the Mall Cribbs Causeway where Wallace, Gromit and Feathers McGraw will reunite in the last chance to marvel at the innovative and inventive trail designs before they are auctioned off to raise vital money for Bristol Children's Hospital. They will be there until the end of September.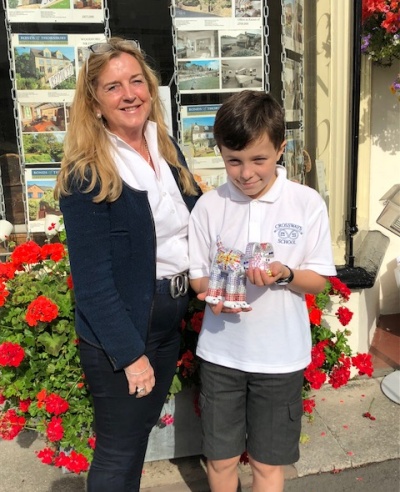 Our very own mini Gromit Hunt has also finished and it was very well received by visitors to the town. Thank you to everyone who took part. We have collected in all the entry forms and the winner of the prize draw was Joby Amesbury, aged 10, from Thornbury.
He wins the mini Gromit he chose as his favourite which was "007 Diamonds are Forever" designed by Penny Skinner from Bonds of Thornbury. Joby also wins £25.00 of Thornbury Vouchers to spend in our local participating shops.
The rest of the mini Gromits are being sold and all the money raised will be donated to the Grand Appeal charity which supports Bristol Children's Hospital. Rowena, Chair of Thornbury Chamber, commented that it was nice to see so many people around the Town throughout the summer obviously enjoying both the main Gromit Trail but also taking part in our very own Gromit Hunt. We hope this will encourage people to visit Thornbury again.
You can still buy a memento of Honeysuckle Rose, there are Note Books £2.95, Fridge Magnets and Badges £2.00 each, they are available at News 4 U in St Mary Centre until the end of September. All profits go to the Grand Appeal.
Our own mini Gromits were all wonderfully decorated by local people and it is a shame to pick any winners but the top 4 were voted by the public as:
1st Mr Gromit – Gems of Thornbury
2nd Wings – Papilio at Heritage
3rd 007 Diamonds are Forever – Bonds of Thornbury
4th Daisy – The Carnival Committee (Displayed in Riddifords)


See Cadman Wealth Planning's Raffle Winner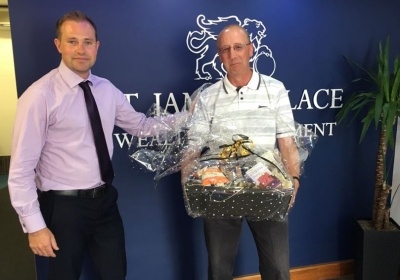 The winner of the Cadman Wealth Planning raffle, held on their stand at Thornbury Carnival, has collected his prize hamper from Cadman Wealth Planning's new mortgage adviser Jon.
All proceeds of the raffle went to The Bristol Children's hospital. The total amount that we raised was £100!
To find out more about Cadman Wealth Planning, visit their website www.cadmanwealthplanning.co.uk.


New Local Travel Agent Moves to Thornbury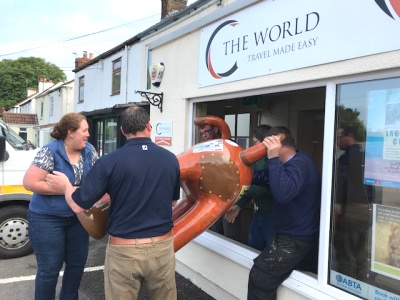 C The World is a local travel agent with branches in Bristol, Bath and, they're excited to announce, soon to be in Thornbury!
They're in the throes of moving their head office from Easter Compton to Thornbury and from Monday 25th June, their new address will be: 47 The High Street, Thornbury BS35 2AR (in the former Lloyds Pharmacy building).
Click here to see their full contact details and a link to their website.
The photo shows the team moving their beloved Gromit, ready to settle in Thornbury.


The Food Fair is back!
Thornbury's much-loved Christmas Food and Gift Fair is back on December 8th 2018, 10am-2pm, Castle Street and The Plain, Thornbury.
If you would like to book a stall, please email Penny Skinner at .
Come and indulge in a celebration of food and gifts in Thornbury. Castle Street and The Plain will be closed off to allow local food and gift suppliers and caterers to display their products and services. There'll be over 60 stalls to browse, with plenty to see, try and buy.
This event is organised by Thornbury Chamber of Commerce.


Thornbury's 2018 Events Postcard
With the generous support of Thornbury Town Council, Thornbury Chamber has produced a new free postcard to let everyone know about key events coming up in Thornbury throughout 2018.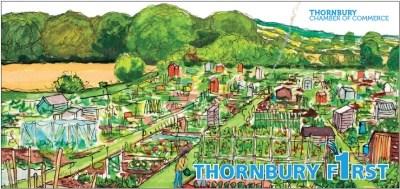 Past versions of the postcard have featured various picturesque images of the town.
This year we are proudly displaying a view of Daggs allotments, drawn and kindly supplied by Richard Edwards at Surroundings.
These postcards are now available to pick up in shops and businesses in and around Thornbury for free - keep an eye out for yours!


Thornbury Gift Vouchers
Thornbury Chamber of Commerce has created Thornbury Gift Vouchers, ideal for family and friends.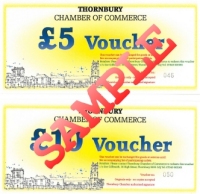 These vouchers can be used in any Chamber member business and can be bought in Gems, Hawkes House, Finishing Touches and Bonds.
The vouchers are also perfect as promotional gifts, raffle prizes and for companies to offer as presents for employees.
Each £5 or £10 voucher comes with a copy of the hand-drawn Thornbury Town Map, which lists the wide range of local shops and businesses where you can spend the vouchers.
If you have vouchers spent in your business, just contact Zoe at and she will collect and reimburse you for the vouchers.


Thornbury Shoppers Guide
Keep an eye out around Thornbury for the latest Shoppers Guide, produced by Thornbury Chamber.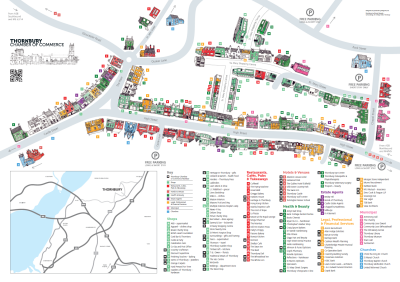 It features a beautiful multi-coloured hand-drawn map of the town, created by Richard Edwards from Surroundings, and listing key shops, businesses restaurants and venues.
On the back you'll find adverts from shops and businesses that have contributed towards the cost of the guide, which is free to shoppers.
There's also information about Thornbury's key events and festivals, and the Chamber of Commerce.
Click here to download a low-resolution version of the map, or pick up a copy when you're next shopping in Thornbury.


Thornbury Town Centre Map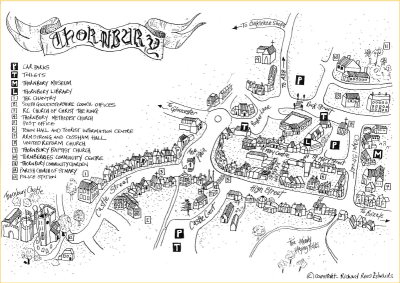 You can print off the 2013 version of a delightful map of Thornbury.
The map has been beautifully hand drawn by Richard Rees-Edwards of Surroundings on behalf of the Chamber of Commerce, and features key buildings and services.
Copies of the map are available around Thornbury, or click here to print your own.
The back of the map shows Chamber members click here to print the list.


About Thornbury Chamber
Thornbury Chamber exists to:
promote common support among the business community

encourage working to the mutual benefit of members

provide a collective voice in discussions with local authority and other agencies

encourage a high standard of excellence in business

help businesses increase their trade

help and encourage the promotion of Thornbury and its commerce
An established Chamber for more than 40 years, its members pride themselves on the position it enjoys as a respected and influential body within the town.
If you want have your say where and when it counts, then how better than through the Thornbury Chamber of Commerce?
The Chamber holds Quarterly General Meetings, one of which is an Annual General Meeting, usually held in Spring.
Occasionally special meetings are called to deal with specific developments, which may be important to the commercial landscape of Thornbury.
Meetings are open to members only.
All Thornbury Chamber members have access to the facilities of Bristol Chamber of Commerce. Visit their website for the latest business news and information: www.businesswest.co.uk


Offers from Chamber Members:

Johnson and Furze Opticians and Optometrists offer independent businesses in Thornbury a 15% discount off the cost of any spectacles. Call 01454 411760.

Thornbury Chiropractic Clinic offers special rates for all staff of Thornbury Chamber of Commerce members. Free initial consultation, £20 per session for up to four sessions. Standard consultation fee £32, standard treatment fee £32. Call 01454 418259 and quote ref: Chamber.
For more offers from Chamber members open to all, please see the offers page


Empty Business Premises in Thornbury
For details of current properties available to rent or buy, please visit the Thornbury Chamber website.





Forthcoming events
Tuesday 13th November 2018
Saturday 1st December 2018
Saturday 8th December 2018