Thornbury Chamber of Commerce

How to contact the Chamber
Zoe Gilbraith, Thornbury Chamber of Commerce Secretary
c/o Bonds of Thornbury, 14 The Plain, Thornbury BS35 2BD
Tel: 07949 005361
Email:
Web: www.thornburychamber.org.uk
Facebook: www.facebook.com/pages/Thornbury-Chamber-of-Commerce

Click here to download a Chamber membership application form.


Latest News:
Carole takes the reins as new General Manager at Alveston House Hotel
The latest chapter in the history of Alveston House Hotel near Thornbury has begun as hotel owner Julie Camm stepped back from the day-to-day running of the business after over 40 years of service - including two decades of leadership. She handed over responsibility to Carole Crawshaw, who becomes General Manager having herself been with the hotel for 20 years.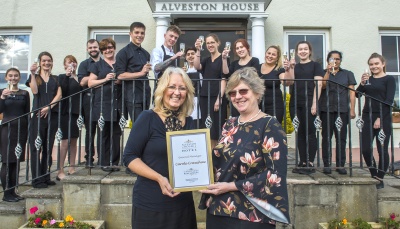 Carole Crawshaw (right) takes over the role of General Manager from Julie Camm, watched by members of the team
The event was marked with a celebratory lunch for the hotel's team of 20 staff and a presentation of long service awards to three members of staff: Lisa Hindson for 25 years in various roles but latterly as Deputy General Manager, Carole who started as General Assistant 20 years ago and Nina Plachtyna for 10 years as Head Housekeeper.
The award-winning South Gloucestershire hotel, which offers 29 bedrooms, impressive conference facilities and the AA rosette-starred restaurant 'Carriages' has become firmly established under Julie's tenure as a quality venue for business and leisure with a reputation for personal and caring service.
Julie began her career at Alveston House as a general assistant in the summer holidays. Originally having ambitions to teach PE she instead fell in love with the world of hospitality. Julie worked her way up to General Manager and took ownership of the hotel under a management buy-out in 1998.
Now, 20 years on, Julie is looking forward to spending her time focusing on her other passion – carriage driving. Having represented Great Britain in five Combined Pony World Championships she is now involved in encouraging and mentoring a new generation of carriage drivers.
She will remain a source of support, advice and encouragement to the remaining hotel team.
"After being a hotelier 24/7 for a great many years, I feel the time is right to devote myself to my other interests." Julie says. "I can think of no better hands than Carole's in which to leave the hotel and I am thrilled that she now has the opportunity to fully take over the reins of a business that means a huge amount to us both.
"I would like to thank all of our customers, staff, suppliers and friends who have been such a big part of my life and the hotel's history over the last 40 years for their support."
Carole, who has managed the hotel's sales and marketing for the last decade is thrilled to fulfil her own personal ambition to run a hotel.
She says: "I am excited to be leading such an outstanding, experienced and passionate team in continuing to deliver the enviable quality of service and hotel experience for which we are known. I am greatly looking forward, as General Manager, to welcoming everyone who comes through our doors – whether for a wedding, family event, festive celebration, afternoon tea, Sunday lunch or a special evening out."
Earlier this year Prestige Retirement Living Ltd, developers of homes for the over 55s expressed its interest in purchasing the hotel. If successful, Prestige have said that Alveston House Hotel will remain in business, running with the existing management team and loyal staff until at least 2020 and perhaps longer.


Thornbury Gift Vouchers
Thornbury Chamber of Commerce has created Thornbury Gift Vouchers, ideal for family and friends.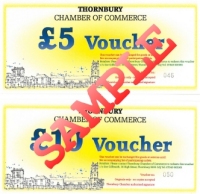 These vouchers can be used in any Chamber member business and can be bought in Gems, Hawkes House, Finishing Touches and Bonds.
The vouchers are also perfect as promotional gifts, raffle prizes and for companies to offer as presents for employees.
Each £5 or £10 voucher comes with a copy of the hand-drawn Thornbury Town Map, which lists the wide range of local shops and businesses where you can spend the vouchers.
If you have vouchers spent in your business, just contact Zoe at and she will collect and reimburse you for the vouchers.


Thornbury Shoppers Guide
Keep an eye out around Thornbury for the latest Shoppers Guide, produced by Thornbury Chamber.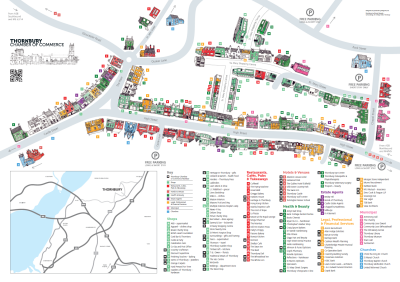 It features a beautiful multi-coloured hand-drawn map of the town, created by Richard Edwards from Surroundings, and listing key shops, businesses restaurants and venues.
On the back you'll find adverts from shops and businesses that have contributed towards the cost of the guide, which is free to shoppers.
There's also information about Thornbury's key events and festivals, and the Chamber of Commerce.
Click here to download a low-resolution version of the map, or pick up a copy when you're next shopping in Thornbury.


Thornbury Town Centre Map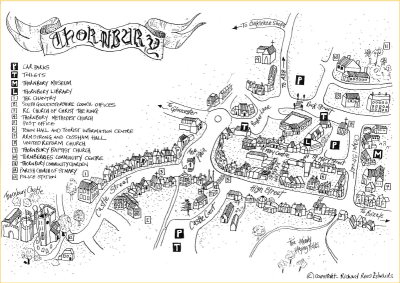 You can print off the 2013 version of a delightful map of Thornbury.
The map has been beautifully hand drawn by Richard Rees-Edwards of Surroundings on behalf of the Chamber of Commerce, and features key buildings and services.
Copies of the map are available around Thornbury, or click here to print your own.
The back of the map shows Chamber members click here to print the list.


About Thornbury Chamber
Thornbury Chamber exists to:
promote common support among the business community

encourage working to the mutual benefit of members

provide a collective voice in discussions with local authority and other agencies

encourage a high standard of excellence in business

help businesses increase their trade

help and encourage the promotion of Thornbury and its commerce
An established Chamber for more than 40 years, its members pride themselves on the position it enjoys as a respected and influential body within the town.
If you want have your say where and when it counts, then how better than through the Thornbury Chamber of Commerce?
The Chamber holds Quarterly General Meetings, one of which is an Annual General Meeting, usually held in Spring.
Occasionally special meetings are called to deal with specific developments, which may be important to the commercial landscape of Thornbury.
Meetings are open to members only.
All Thornbury Chamber members have access to the facilities of Bristol Chamber of Commerce. Visit their website for the latest business news and information: www.businesswest.co.uk


Offers from Chamber Members:

Johnson and Furze Opticians and Optometrists offer independent businesses in Thornbury a 15% discount off the cost of any spectacles. Call 01454 411760.

Thornbury Chiropractic Clinic offers special rates for all staff of Thornbury Chamber of Commerce members. Free initial consultation, £20 per session for up to four sessions. Standard consultation fee £32, standard treatment fee £32. Call 01454 418259 and quote ref: Chamber.
For more offers from Chamber members open to all, please see the offers page


Empty Business Premises in Thornbury
For details of current properties available to rent or buy, please visit the Thornbury Chamber website.





Forthcoming events
Tuesday 12th March 2019