Thornbury Arts Festival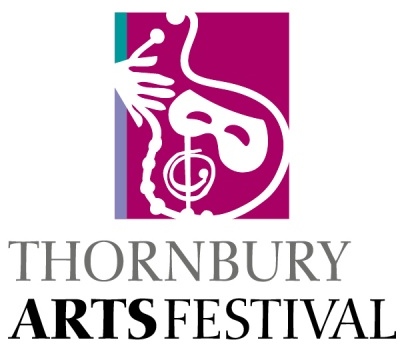 Thornbury Arts Festival runs for ten days every Spring - see the calendar for full details of events near the time.
The Arts Festival came into being in 1969 with varied programmes of events covering music, drama, film and comedy, as well as visual arts.
Signatures in the archive album range from an astronaut, an explorer, radio and television personalities and actors, writers and scientists as well as Big Bands, singers and musicians.
The programme also includes lunchtime talks and entertainment, children's events including an Eisteddfod for music and drama, a village walk and The Severn Vale Art Trail.
For more information, please visit www.thornburyartsfestival.com or email: .
Book your tickets online at www.thornburyartsfestival.com or by calling 07762 717310.


Severn Vale Art Trail

The Thornbury Arts Festival is pleased to present its Severn Vale Art Trail, along with a Showcase Exhibition in the Town Hall.
New artists join the trail each year, and to visit them in their own homes and studios is fascinating.
The trail presents a wealth of talent by local artists and makers including paintings in oils, watercolour and pastel, ceramics and sculpture, prints and drawings, photography, jewellery, textiles, stained glass, and woodturning.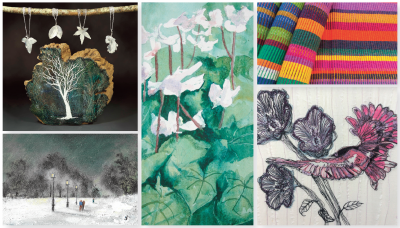 The work is exhibited in a wealth of venues providing an opportunity to visit places that you would not normally see and view and perhaps buy something which catches the eye.
Following a trail to access the work of talented locals is an exciting way to spend your time and is a chance to purchase a fresh work of art for your home.
Watch out for brochures from Thornbury Town Hall and in outlets in the surrounding towns and villages.
To find out more, visit thornburyartsfestival.com/art-trail or www.facebook.com/severnvalearttrail, or for enquiries, contact Jane Parfitt on 01454 613581 or by email .


Art in Business
Look out for examples of art work in the period leading up to the Art Trail in shop windows and businesses around the town.


Friends of Thornbury Arts Festival
The Friends are a social group whose main aim is to enjoy themselves and support the various Thornbury Arts Festival events. Anyone can join and enjoy: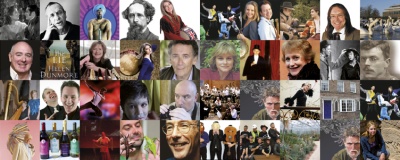 Priority booking for Thornbury Arts Festival - up to 4 tickets per event - full details on becoming a member
Visits to other Arts Festivals with the Friends
Getting involved with helping our Festival Organisers by for example, assisting with promotional stalls and street fairs, helping and stewarding at events, delivering Festival brochures and posters
A members' social event at least once a year
Fundraising events such as coffee mornings, special dinners etc.
A quarterly newsletter to keep you informed
Thornbury Eisteddfod
The annual event takes place in March, and includes classes in Speech and Drama, Vocals, Instrumentals, and Choirs and Orchestras.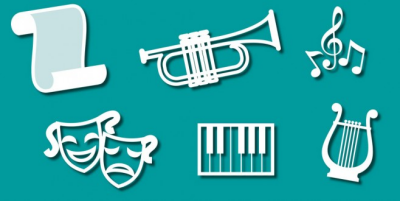 The Syllabus listing all the dates and classes is available from the end of October, and entries need to be sent in as soon as possible, with a closing date in mid to late January.
Adjudicators are professionals, approved by the Federation of Festivals.
Entrants from 4 to 21 years of age are welcome and the events take place in either the Whitsun Hall or St Mary's Church, Thornbury, mainly at weekends.
Anyone interested in receiving a syllabus should contact Rosemary on 01454 415332, or Jackie on 01454 416421. Information can also be found on www.thornburyartsfestival.com.


History of Thornbury Eisteddfod
In 1989, Thornbury Arts Festival decided to introduce a pre-Festival Eisteddfod with 30 classes for local instrumentalists and vocalists aged 18 and under.
It was held over two days at the Castle School and Manorbrook Junior School, sponsored by the Lions and attracted several hundred young people.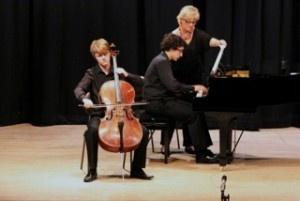 Over 25 years on, Daphne Ashton, who helped to set up the Eisteddfod, is still an active member of the team and the event is still generously sponsored by the Lions.
Since 1989, thousands of young people have participated in this wonderful event and many have gone on to make music a central part of their lives, sometimes professionally.
Watching the development of vocalists and instrumentalists year on year has been one of the delights experienced by those who have been involved in the Eisteddfod in the past 25 years.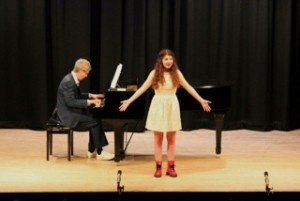 Over the years there have been changes – now most of the classes are held in the peaceful setting of The Whitsun Hall, thanks to the hospitality of The Hatch Community and in St Mary's Church, but over the years many local schools, halls and churches have been host to the Eisteddfod itself and to the Eisteddfod Concert, which has always been the culmination of the hard work put in by participants and the volunteers who run this worthwhile event.
Classes have changed – some taken out, others added and over a hundred adjudicators have come along to encourage and advise young musicians and vocalists.
The age range has been extended and in 2001, Speech and Drama classes were added, enthusiastically attended by budding thespians.
Originally the Eisteddfod was organised by The Festival Committee but the considerable demands of the administration led to the formation of a sub-committee of hardworking volunteers.