Thornbury Arts Festival
Next event
Thursday 29th April 2021
Family Art Adventure
NEW for 2021, we are running an exciting event in Thornbury alongside the Severn Vale Art Trail entitled the 'Family Art Adventure'. It aims to be an enjoyable, healthy and free activity for us all to do!
The idea is that family/household members of all ages, but particularly children and young people, create their own works of art using any medium they wish during the Easter holidays. They are then encouraged to display it in their home windows for all to see from Friday 30th April to 31st May 2021. Thornbury residents then have plenty of time to walk, view and enjoy the window art by using a downloadable map as a guide, that will be available from the 29th April 2021.
The theme of the artwork is to create 'what makes you happy'... Read more >>
---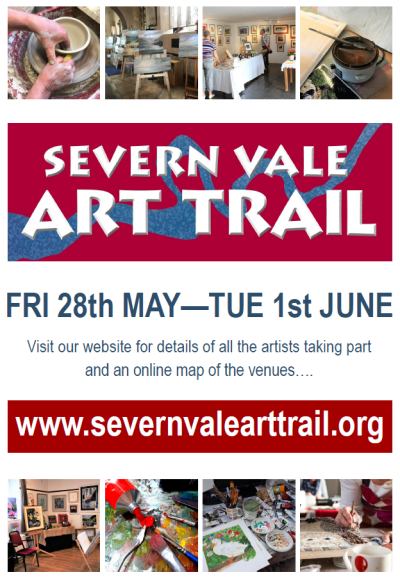 May is Art Month!
It has been a challenging time for the Severn Vale Art Trail (SVAT), but an Art Trail will be going ahead this year from Thursday 28th May to Monday 1st June.
This year we will be hosting 44 artists displaying a stunning range of work, with new venues, which in themselves are interesting places to visit. Each venue will have corona virus safety measures in place.
Browse our website to find details about the artists, the venues, view their work and to download the Trail map: www.severnvalearttrail.org.
Spend just an hour, an afternoon, a day or even several days exploring the Art Trail and enjoy the opportunity to view and purchase original art work.
To kick start Thornbury's Month of Art in May, we are delighted to announce a Family Art Adventure. This will be similar to lockdown window art held in other towns.
Households/families have been invited to participate and display creative artwork visible in their windows from the pavement.
The Family Art Adventure starts on May 1st and the window art will remain on display for up to a month. On the SVAT website, click on the page Family Art Adventure to learn more about this exciting new event.
Online you will find trail maps for both events: www.severnvalearttrail.org.


2021 Festival Cancelled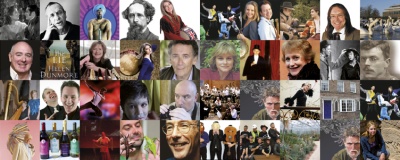 Organisers of Thornbury Arts Festival have taken the "difficult" decision to call off the 2021 event due to continuing uncertainty surrounding the Covid-19 pandemic.
Their disappointment at having to shelve the annual programme of music, comedy, drama and talks follows cancellation of the 2020 festival at short notice last spring when the coronavirus took hold.
In normal times, the finishing touches would be made to the line-up of events before winter, with tickets going on sale in February.
But with the 2021 event scheduled to start at the end of April and Government forecasts of restrictions still being in place at least in the early part of the new year, the festival committee felt it was too risky to plan for live performances.
The event's traditional venue, the Armstrong Hall, has also been closed since the start of the first lockdown and remains shut for the "foreseeable" future.
The committee said: "Given that our festival was scheduled for April 23-May 1 and that we currently do not have a viable venue, we feel that the option to continue with the festival on those dates is too precarious and hence we have resolved that it will not go ahead."
However, it said it was exploring opportunities it might have to provide ad hoc events later in the year at alternate venues, which could include outdoor sites.
It also still plans to run a full festival in the spring of 2022.
The committee said: "This has been a very difficult decision and we very much regret that we will not be in a position to host an arts festival week in 2021 as previously intended."


About Thornbury Arts Festival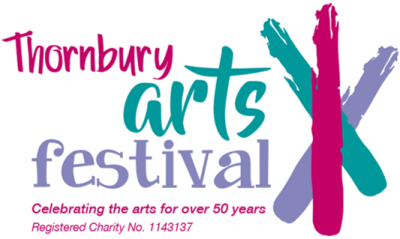 Thornbury Arts Festival runs for ten days every Spring - see the calendar at the bottom of this page for full details of events when available.
The Arts Festival came into being in 1969 with varied programmes of events covering music, drama, film and comedy, as well as visual arts.
Signatures in the archive album range from an astronaut, an explorer, radio and television personalities and actors, writers and scientists as well as Big Bands, singers and musicians.
The programme also includes lunchtime talks and entertainment, children's events including an Eisteddfod for music and drama, a village walk and The Severn Vale Art Trail.
As one of the longest running arts festivals in the country, the Thornbury event is run entirely by volunteers and boasts a mix of daytime and evening events to appeal to as wide an audience as possible.
More details are available on the Arts Festival website www.thornburyartsfestival.org.uk - and also the facebook page.



Forthcoming events
Thursday 29th April 2021
Friday 28th May 2021