Thornbunny Fortnight
Next event
Saturday 24th March 2018
24 March - 7 April: Thornbunny Fortnight
The Thornbunnies were so well received last year, they have decided to make return trip to Thornbury for this year's Easter holidays.
This year there will be a simple "hide and seek" trail to follow, with the bunnies hiding in the windows or interiors of Thornbury shops and businesses.
Collect the bunnies' names and you could win prizes of Thornbury Vouchers and Easter Eggs - entry forms will be available soon.

---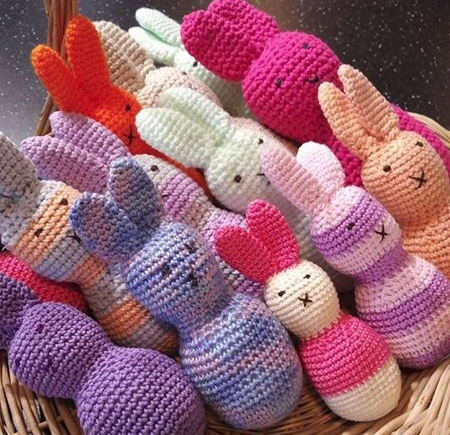 Thornbunnies Hop into Town
Saturday 24th March to Saturday 7th April 2018
Mr & Mrs Thornbunny are enjoying a well earned rest tucking into tea and cakes in Papilio at Heritage Coffee Shop.
Meanwhile, their children have decided to go and play hide and seek around the town...
Can you find where they are hiding? Pick up an entry form from one of the shops in the town and see how many bunnies you can find.
Just put the name of the bunny next to the shop you find them in and when you have found them all hand the entry form into either Gems, Papilio, Finishing Touches or Surroundings before the 15th April and you will be entered into a free prize draw to have a chance to win either Thornbury Vouchers or an Easter Egg.


Background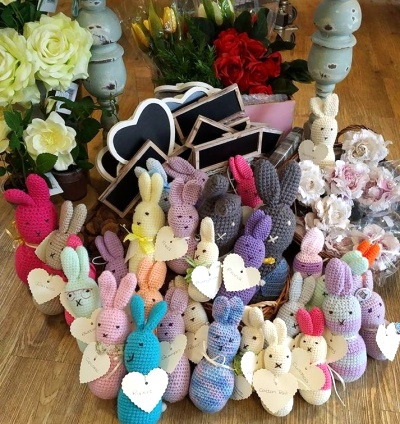 The first Thornbunny Fortnight was held in April 2017, with 30 knitted Thornbunnies "lost" around town.
The Thornbunnies were knitted by two local ladies: Rebecca Tinney and Patricia Howarth.
We were all invited to help find the Thornbunnies in shops and businesses around Thornbury and enter their names into a Wordsearch for the chance to win Thornbury vouchers.
The winner of the £50 of Thornbury Vouchers for the Wordsearch competition for 2017 was Sophia Jones, age 8, from Thornbury.
There were also competitions run by Thornbury Library - one to write a story about the Thornbunny family and one to colour in a portrait of the Thornbunnies drawn by the talented Richard from Surroundings.
Thornbunny Fortnight was organised by Thornbury Chamber of Commerce. To see the photos of the bunny antics, visit the Chamber's facebook page.
For enquiries please email .



Forthcoming events
Saturday 24th March 2018