Thornbunny Fortnight
Thornbunny 2018 Winners
The winners of the prize draw for the Thornbunny Trail are: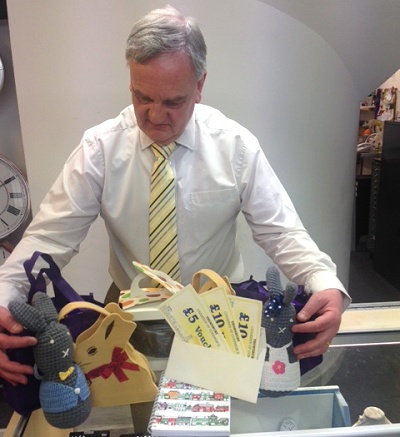 Lily Gainer of Dursley – wins £25.00 Thornbury Voucher and a Thornbury Note Book.
Matthew Davies of Rangeworthy – wins a Luxury Belgian Chocolate Easter Egg
from Papilio at Heritage
Oliver Hall of Thornbury – wins a Lindt Bunny
Harry Sayce of Thornbury – wins a Cadburys Goodie Bag
Claire Stephens of Thornbury – wins a Lindt Bunny
Anya Beaugie of Thornbury – wins a Cadburys Goodie Bag
The photograph shows Mike Horton (Vice Chair of Thornbury Chamber of Commerce) with Mr & Mrs Thornbunny with the prizes just prior to the draw taking place.
We have had good feedback from the local businesses and the public that they enjoyed the bunny hunt.
The Chamber of Commerce would like to thank everyone who took part and hope the public found the event opened their eyes to what is available in our local environment.
Here is a comment from one of the entry forms: "Some Rabbits hard to find, names very appropriate for shops – met lots of friends and found places in Thornbury I didn't know existed and found items in shops I didn't know they stocked … enjoyable Trail. Thank you".


Background
The first Thornbunny Fortnight was held in April 2017, with 30 knitted Thornbunnies "lost" around town.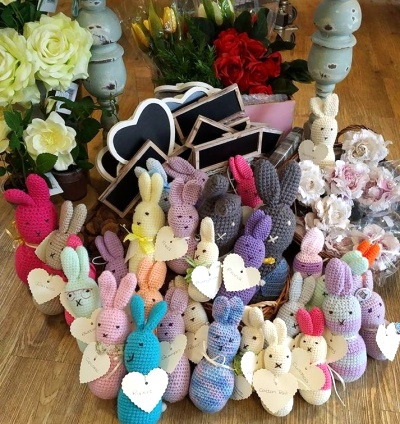 The Thornbunnies were crocheted by two local ladies: Rebecca Tinney and Patricia Howarth. The pattern to crochet your own is available in the Wool Stop for £1, with the money going to Brain Tumour Support.
We were all invited to help find the Thornbunnies in shops and businesses around Thornbury and enter their names into a Wordsearch for the chance to win Thornbury vouchers.
There were also competitions run by Thornbury Library - one to write a story about the Thornbunny family and one to colour in a portrait of the Thornbunnies drawn by the talented Richard from Surroundings.
Thornbunny Fortnight is organised by Thornbury Chamber of Commerce. To see the photos of the bunny antics, visit the Chamber's facebook page.
For enquiries please email .