Thornbury in Bloom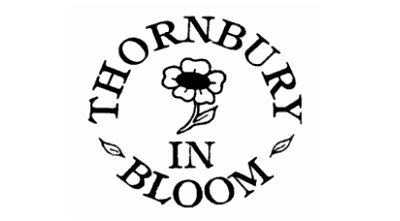 Changing Leadership for Thornbury in Bloom!
Local trader, florist Jean Owen, and her workmate Fran Sparrow have stepped into the breach with a shared Thornbury in Bloom Chairmanship leader team, highly experienced in all matters of the TiB annual calendar.
Long-time servant and inspirational leader, Sue Aitken, has stepped down from the prominent position she has held for so many years, but although her presence will be sorely missed, she has left an organisation determined to sustain her visions for Thornbury, now that her Town Centre business has closed too.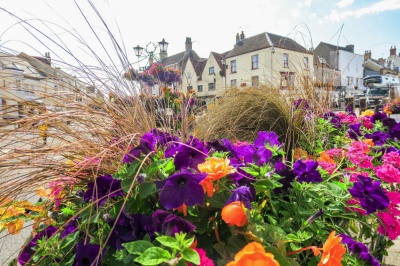 The Secretarial role has been filled after a three year gap, by David Goldring. The Schools' Liaison officers remain as Hannah Powell and Vicki Williams.
Any members of the Public having a need to make contact with the Thornbury in Bloom team can leave a message in Calling Box in Jean Owen's flower shop at the heart of Thornbury, on the Plain corner.
Especially welcomed would be the folk who, in the past, have called-in at Sue's now closed shop, to make generous donations.
Valued local News platform, the "MyThornbury.co.uk" website owner, Claire Jaggard is pleased to be able to offer a notice board for the 2023 campaign, which will be focussed on the South West in Bloom Competition.
Sue's detachment from TiB is not total for there are some parts of its task set that she will continue with, as is the case for the work engine of the organisation, her partner Tony Sansum. And the expansive Schools' participation of past years will be in full force, co-ordinated by Hannah Powell and Vicki Williams.


How to contact Thornbury in Bloom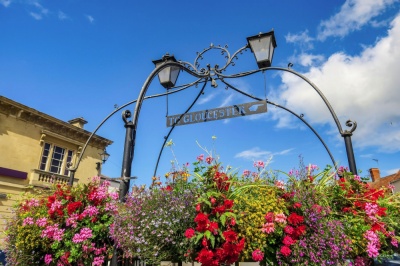 For more information, visit facebook.com/thornburyinbloom or contact us via Twitter #thinbloom.
To enter your home/shop in the Thornbury in Bloom competition, please collect an entry form from Thornbury Garden Shop or T & J Owen's Florist during the Spring.
If you'd like to receive the Thornbury In Bloom newsletter by email, or to join the committee, send your email address to:
Most of the photographs on this page are kindly supplied by RichMcD Photography.


2022 In Bloom Awards
We are delighted to say that Thornbury was awarded a Gold Medal in the top Champion of Champions class in the South West in Bloom and the trophy for the Best Entry.
We were also awarded the Bruford Cup for best non-municipal Horticultural Display [all planting but particularly The Pump].
We were then awarded a trophy for the best planting for Wildlife which included the Tesco Bank, The Leisure Centre and The Butterfly Bank.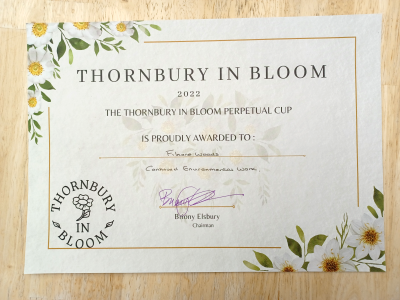 On top of that we were nominated [a bit like the Oscars] for the following awards:
Best Community effort,
Best School effort (Crossways Pumpkin Patch)
Best judges portfolio [the document we present to the judges of our year's work]
Best recycling project (community compost site)
Best use of native plants (Tesco Ring of Thorns)
Best floral business display (Thornbury Garden Shop)
Best art in the landscape (Art on Natwest hoardings)
Congratulations to Sandra at The Swan for winning the Tyrell Shield for the best floral pub 2022. Thank you also to Sandra for hosting our wonderful presentation afternoon.
The Friends of Filnore Woods received the Thornbury in Bloom Perpetual Cup. It was awarded for 'Continued Environmental Work'. Our thanks go to all of you who support us, and in particular to the volunteers who come along to our work parties time after time to do so much work without complaint. Well not much complaint!
In addition for the very first time two of our entrants in the School Painting Competition received an award.
What a wonderful result. Thanks to every single person who has contributed in any way, large or small, it all goes to make our effort successful and Thornbury a wonderful town.


About Thornbury in Bloom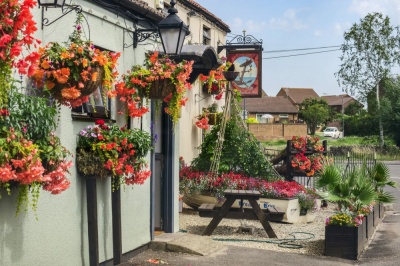 We all enjoy the floral displays that brighten up Thornbury each Summer. Imaginative floral creations welcome us as we enter the town, and hanging baskets and tubs create colourful splashes throughout the town centre.
For this we have to thank the Thornbury in Bloom Committee - a group of volunteers who raise money each year to fund the displays, and work hard to plant up the various containers.
Their efforts make Thornbury an attractive place for locals and visitors.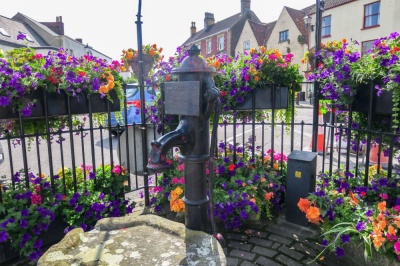 It's not just those of us who live locally who appreciate the effort and skill that goes into creating the floral displays. The Thornbury in Bloom committee enters the Britain in Bloom competition, and regularly wins awards.
Prizes are awarded locally to businesses: pubs, shops and even industrial units take part.
There are also local prizes for private gardens, and everyone is encouraged to take part. There are certificates and garden vouchers to be won!
Each Spring the Thornbury in Bloom committee holds a Thornbury in Bloom Day, with plant stalls and collections, culminating with an evening event, which in the past has involved presentations by Chelsea Gold Medal winners such as Jekka McVicar and Leyhill Prison.