Thornbury Town Council
Next event
Wednesday 19th February 2020
7.30pm: Member Awarded Funding Grants Session
Thornbury Town Hall
There will be another Grant round to distribute the South Glos Council's 2019/20 Member Awarded Funding (MAF) for Thornbury on Wednesday 19th February in the Council Chamber of Thornbury Town Hall starting at 7.30pm.
This meeting is open to the public, but applicants will be given preference if there is not enough space in the Chamber.
South Glos Councillors, Shirley Holloway, Jayne Stansfield and Maggie Tyrrell, will again work together to award the remaining £4,500 MAF funding allowance to as many groups in Thornbury as fairly as they can. In 2018/19 they were able to support 10 local charities.
Any group wishing to apply for this second 2019/20 session should contact one of the following as soon as possible unless you have already... Read more >>
Email:

---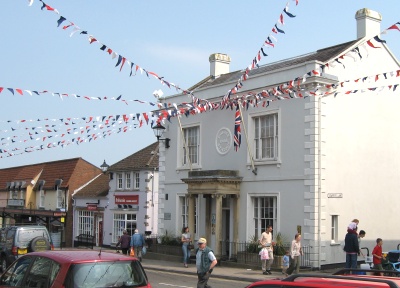 How to contact Thornbury Town Council
Address: The Town Hall, 35 High Street, Thornbury BS35 2AR
Tel: 01454 412103 (Mon-Thurs 9am-5pm, Friday 9am-4.30pm)
Email:
Website: www.thornburytowncouncil.gov.uk


Latest Council News
New Osprey Park Play Area Opens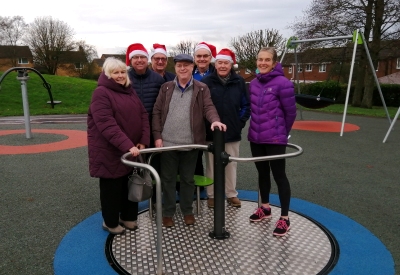 Thornbury Town Council is delighted to report that new play equipment has been installed and is now open at the Osprey Park Play Area, just in time for the Christmas school holidays!
The project to provide a much needed redevelopment of the play area began in late summer. Designs were supplied by a number of play equipment companies. Following a tender process, the contract was awarded to Proludic. This was followed by consultation events in September to allow Thornbury residents to have their say on the final design.
Councillor Helen Harrison, Chair of the Playing Fields and Cemetery Committee said, "We had a fantastic response to the consultation and are very grateful to all the local residents who took time to participate, both to our on line consultation and also those who came along to our events in St Mary's Centre, Osprey Park Play Area and local schools. The responses we had helped us to decide on the play panels and springers that were included in the final design."
Councillor Angela Symonds, Mayor of Thornbury and Chairman of the Council said, "We are thrilled to see the finished play area and hope that families and children will have lots of fun using the new equipment. We have tried to include something for all age groups as well as some accessible equipment." 
This redevelopment is part of a rolling replacement programme of all play areas in Thornbury and the Town Council will be looking at improving another play area in the next couple of years.  The cost of the redevelopment was met partly with funds received from the Community Infrastructure Levy and partly from normal Council budgets.     


Thornbury Town Council Introduces New Recycling Facilities in to the Mundy Playing Fields
Thornbury Town Council is very happy to announce the installation of a new recycling bin in the Mundy Playing Fields. The Town Council has been keen to encourage recycling in the town and felt it was important to provide these facilities in the very busy playing fields.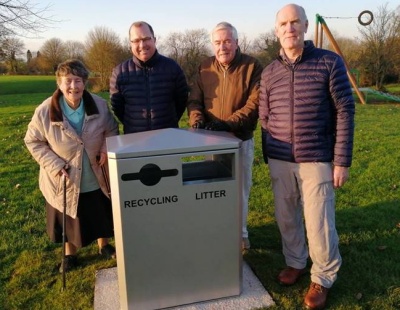 The Chair of the Environment Committee, Councillor Matt Stringer, said "The new recycling bin will hopefully be very much welcomed by the many users of the Mundy Playing Fields. We hope that we can all work together to reduce the amount of waste that ends up in landfill".
The Committee is also planning the further development of its environmental area in the Poulterbrook section of the Mundy Playing Fields. This will include the planting of additional trees and wildflower areas, as well as a picnic bench made from recycled materials and a further recycling bin.
Thornbury Town Council is keen to point out that it hopes that those who use the Mundy Playing Fields will use the new facilities responsibly. It is important that items placed in "recycling" section of the bin do not get contaminated with "non-recyclable" items.
The photograph shows (left to right) Councillor Clare Fardell, Councillor Matt Stringer, Councillor Bob Griffin and Councillor Guy Rawlinson with the new recycling bin in the Mundy Playing Fields.


About Thornbury Town Council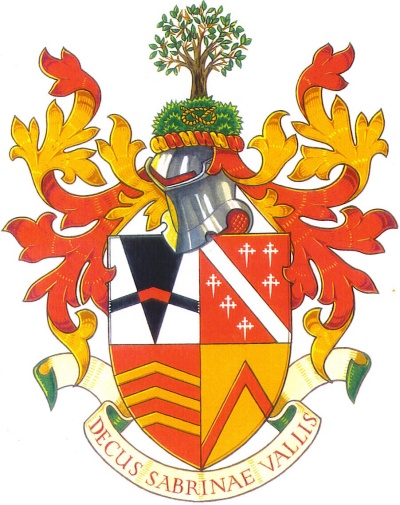 The Town Council is responsible for running Thornbury, and it's your first point of call if you want to find out more about where you live or how the town operates.
The Town Hall is easy to find, right on the High Street in a Grade 2 listed former police station, and you're welcome to drop in any time. It houses the Council chamber, offices and community facilities.
The building is also home to the Town Council's Tourist Information Centre, South Gloucestershire Citizen's Advice Bureau, Thornbury and District Volunteer Link, and Thornbury Pensioners' Drop in Centre.


How It Works
A Full Council meeting takes place every few weeks. Meetings are held at 7.30pm at the Town Hall and Councillors must attend if they're able.
Members of the public can attend any of the Council and Committee meetings. (The committee meetings vary in start times). There's an opportunity at each meeting for any of us to speak or ask questions on any relevant topic.
The Council has 16 members, each elected for four years. The town is divided into five wards: one of which has four councillors and the others 3. The Chairman of the Council, who is also Town Mayor, is elected by members each May.
Councillors serve on four committees: Town Development, Playing Fields and Cemetery, Environment and Finance and Policy - each of these submits reports and recommendations to full Council. There is also a Staffing committee.
Some councillors are also representatives on outside bodies and attend their meetings too.


Thornbury Consolidated Charities
Known locally as the Thornbury Town Trust, this is a Registered Charity with seven trustees, three nominated by the Council. It helps organisations, groups and individuals in Thornbury.
The Trust owns property and land around Thornbury. It runs four almshouses and over 80 allotments on Daggs Field. If you would like to know more about the allotments, click here.


Hire the Hall
You can hire the Council Chamber and its kitchenette for meetings or conferences. There is also an excellent exhibition/meeting room.
The Town Hall is fully accessible with a ramp on Silver Street and a lift to the first floor. Please contact the office staff for more details.


Civic Regalia
Thornbury has its own civic regalia, worn on appropriate occasions. The silver gilt Town Mace is carried by the longest-serving Councillor and is a replica of the solid silver original, which is in the Bristol Museum.
The Mayoral chain was created in silver by local craftsman John Pinch in 1974. The Mayor's escort and the Deputy Mayor also wear chains, and the Mayor and Lady Mayor wear robes and corned hats.






Forthcoming events
Wednesday 19th February 2020
Saturday 29th February 2020
Saturday 28th March 2020
Saturday 25th April 2020
Saturday 30th May 2020
Saturday 27th June 2020
Saturday 25th July 2020