Thornbury Town Council
Next event
Saturday 21st September 2019
10am: Guided tours on Heritage Open Day
Thornbury Town Hall
10am – 4pm
Enjoy a guided tour around the Town Hall, which is also known as the Old Police Station, with a history of the building's past use as a police station and a court.
The tour also includes a look at many interesting artefacts from those times as well as some from the current use of the building by Thornbury Town Council.
Access: The main entrance has a couple of steps, but there is alternative access via a ramp at the side of the building which can be opened up on request. There is also a lift in the building for those who would not be able to use the stairs up to the first floor.

www.thornburytowncouncil.gov.uk

---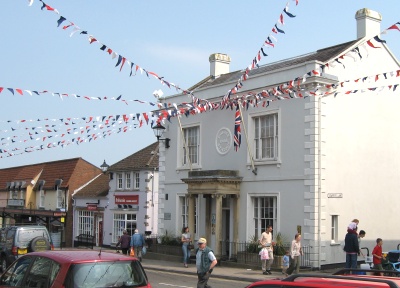 How to contact Thornbury Town Council
Address: The Town Hall, 35 High Street, Thornbury BS35 2AR
Tel: 01454 412103 (Mon-Fri, 9am-5pm)
Email:
Website: www.thornburytowncouncil.gov.uk


Latest Council News
New Mayor and Deputy Mayor Elected
Following the local elections in April 2019, Thornbury Town Council is delighted to present Angela Symonds as the new Town Mayor and Council Chairman, and Jayne Stansfield as the new Deputy Mayor and Council Vice Chairman.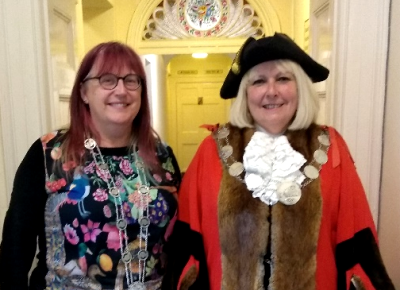 Angela is "delighted and honoured to accept the position" which sees her take the post for the coming year.
At the Council's Annual General Meeting, upon signing the Declaration of Acceptance of Office, Mayor Angela Symonds explained Thornbury's value to her and what she hoped to achieve during her term. She highlighted youth services as something that is important to her and also work on infrastructure to support the new housing developments.
Cllr Claire Fardell, who nominated Angela as Mayor, says: "She is always wiling to give help when asked, and I know that she will work very hard for Thornbury as our Town Mayor". She expressed Angela's high regard amongst local residents, who after many years' service as a nurse in the community, is well known and respected.
Retiring Mayor Shirley Holloway handed over her chains, thanking councillors for their support and the people of Thornbury who made her feel welcome. She spoke with passion of many events she had attended, including the Armed Forces Day Parade and the Special Remembrance Day Service, expressing her pride in what local residents had achieved.
Mayor Angela Symonds has an exciting schedule lined up for the following 12 months, to support Thornbury with upcoming plans and events. She says she is "looking forward to facing any new challenges over the coming year and will do my very best for the Town and its people".


Thornbury Lions Sponsor New Defibrillator at the Armstrong Hall
A new defibrillator has been purchased with generous help from the Lions and installed at the Armstrong Hall in Thornbury.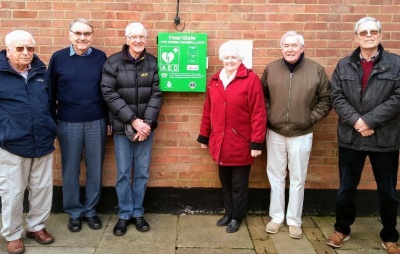 Councillor Benj Emmerson, chair of the Armstrong Hall Management Committee, said: "Our staff have had to assist a number of times with incidents at the Hall and had to go off site to find the nearest defibrillator.
"The Armstrong Hall management committee were keen to purchase one to have it on site for any future incidents, but we could not have afforded it without the kind donation from the Thornbury Lions."
The defibrillator has been installed on the outside of the building, so it can be used by other facilities if required and is detachable, so can be moved to the new Armstrong Hall when it is built.
Keith Townsend, president of Thornbury Lions, said: "Thornbury Lions were delighted to support the purchase of another defibrillator, which will be accessible for the people of Thornbury and our visitors."


Thornbury Town Council Grants
Thornbury Town Council is funded by the residents of Thornbury and therefore has only limited funds available to assist community organisations located and working in Thornbury for the benefit of the community.
Subject to funding being available, Thornbury Town Council is committed to providing assistance and support to local community groups which are set up to promote community life for Thornbury residents. The Council's financial support is provided by way of Grants which are decided against criteria set by, and which can be amended from time to time by, Thornbury Town Council.
Click here to download the grants policy (.pdf).
Click here to download a grant application form (.doc).


About Thornbury Town Council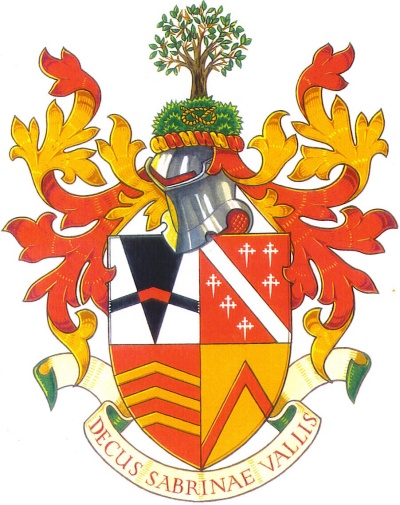 The Town Council is responsible for running Thornbury, and it's your first point of call if you want to find out more about where you live or how the town operates.
The Town Hall is easy to find, right on the High Street in a Grade 2 listed former police station, and you're welcome to drop in any time. It houses the Council chamber, offices and community facilities.
The building is also home to the Town Council's Tourist Information Centre, South Gloucestershire Citizen's Advice Bureau, Thornbury and District Volunteer Link, and Thornbury Pensioners' Drop in Centre.


How It Works
Town councillors meet every six weeks, apart from in August. Meetings are held at 7.30pm at the Town Hall and we're all encouraged to attend. There's an opportunity at each meeting for any of us to speak or ask questions on any relevant topic.
The Council has 16 members, each elected for four years. The town is divided into four wards: Central, South, North-East and North-West, and each ward has four Councillors. The Chairman of the Council, who is also Town Mayor, is elected by members each May.
Councillors serve on four committees: Town Development, Playing Fields and Cemetery, Environment and Finance and Policy - each of these submits reports and recommendations to full Council.


Thornbury Consolidated Charities
Known locally as the Thornbury Town Trust, this is a Registered Charity with seven trustees, three nominated by the Council. It helps organisations, groups and individuals in Thornbury.
The Trust owns property and land around Thornbury. It runs four almshouses and over 80 allotments on Daggs Field. If you would like to know more about the allotments, click here.


Hire the Hall
You can hire the Council Chamber and its kitchenette for meetings or conferences. There is also an excellent exhibition/meeting room, and the community room is available during weekends and evenings.
The Town Hall is fully accessible with a ramp on Silver Street and a lift to the first floor. Please contact the office staff for more details.


Civic Regalia
Thornbury has its own civic regalia, worn on appropriate occasions. The silver gilt Town Mace is carried by the longest-serving Councillor and is a replica of the solid silver original, which is in the Bristol Museum.
The Mayoral chain was created in silver by local craftsman John Pinch in 1974. The Mayor's escort and the Deputy Mayor also wear chains, and the Mayor and Lady Mayor wear robes and corned hats.






Forthcoming events
Saturday 21st September 2019
Saturday 28th September 2019
Saturday 26th October 2019
Saturday 30th November 2019
Saturday 25th January 2020
Saturday 29th February 2020