Thornbury Welcomes!
Next event
Saturday 24th March 2018
3pm: New Residents Welcome Event
Manorbrook Primary School
3-5pm
This event, hosted by Thornbury Welcomes and the Mayor of Thornbury, is for all new residents to Thornbury - people who have moved here over the past few months - both to new estates and individual properties.
Come and meet other residents from your area, find out more about a range of local opportunities, facilities and services in the town, and let us know how we can make Thornbury a more welcoming place for all.
Entry is free - light refreshments will be served, with donations for refreshments accepted.
For more information, please click below.

mythornbury.co.uk/thornbury/thorn...
Email:

---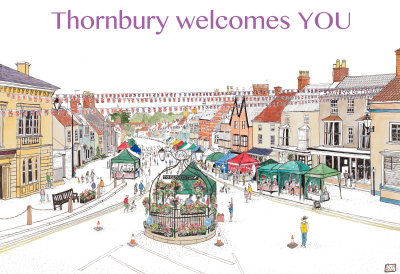 A message from Helen Harrison, re-elected as Thornbury's Mayor in May 2017:
"Thornbury is widely known as a friendly and welcoming town, as shown by the number of people who want to live here, but I wonder if there are ways that it could become even more welcoming.
One of the foci for my second year as Mayor of Thornbury, will be to explore ways in which Thornbury can be more welcoming, in particular for people with disabilities or any additional needs. This initiative is called 'Thornbury Welcomes!'
In order to do this, I want to work with support groups and individuals around the town to look at "what's hot and what's not" in how we welcome disabled people and those with extra needs such as learning difficulties, dementia, strokes or other conditions.
I am also interested to work with shops, businesses and community venues to understand the barriers which may prevent people being fully included in Thornbury life, and exploring how we may put in place measures to improve the situation.
I would also be interested to hear from people who have newly moved into Thornbury, whether they have additional needs and disabilities or not, to find out more about how they felt Thornbury welcomed them, and whether there are extra initiatives we can put in place to help new residents of Thornbury feel a more integrated part of this community.
I have enlisted the support of a Project Coordinator, Sarah Martin, who will be working alongside me in this task. If you or a local group you're part of would like to discuss ideas around how to make Thornbury a more welcoming place, please get in touch with me and we'd be happy to meet you."


You can email Helen at: , or follow her on Twitter: @mayorthornbury and Facebook: Mayor of Thornbury.



Forthcoming events
Saturday 24th March 2018