Thornbury Welcomes!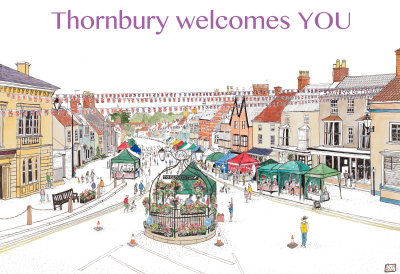 A message from Helen Harrison, Mayor of Thornbury 2016-2018:
"Thornbury is a friendly and welcoming town, but how could it become even better?
That is the question I have been exploring during my second year as Thornbury Mayor, under the banner of Thornbury Welcomes, especially aimed at welcoming people who are new to the town and those with disabilities or any additional needs.
"Thornbury Welcomes" as an initiative has been busy working to understand the needs of people with disabilities and additional needs in using the many services, facilities, shops and leisure activities we have in the town.
It will continue to work with shops, businesses and community venues to understand the barriers which may prevent people being fully included in Thornbury life, and consider measures to improve the situation.
An awareness raising event was run in November 2017 specifically geared towards supporting those with autism or dementia.
This was attended by groups, individuals and businesses from all over the town, and offered the chance to hear talks from those representing people who have autism and dementia, and to ask questions.
A tea party for new residents was held in March at Manorbrook School and all residents of the new houses around the town received an invitation.
Some voluntary and community groups were represented at the tea party and gave new residents some ideas on ways to get involved in the life of the town.
A Community Interest Company has now been set up to continue the work of Thornbury Welcomes beyond the end of my Mayoral term (May 2018), and activities and events are planned for the coming year to improve our welcome across the community.
We are looking to expand the team and have a number of roles that could be filled, including an administrator/project worker for one day a week, so please get in touch if you'd like to know more.
If you, your business or local group would like to discuss ideas on how to make Thornbury a more welcoming place, please get in touch with Helen () or administrator/project worker Sarah ().