Sustainable Thornbury
Next event
Wednesday 6th December 2023
7.30pm: Green Drinks - Sustainable Thornbury
Hawkes House
Sustainable Thornbury (and CATS, or Climate Action Thornbury and Surroundings, which is part of Sustainable Thornbury) holds Green Drinks at Hawkes House on the first Wednesday of every month, 7.30 for 8pm.
Join us to chat about environmental matters, and work out how to make Thornbury and surrounding villages more sustainable. All are welcome. For enquiries, please email below.

www.sustainablethornbury.org
Email:

---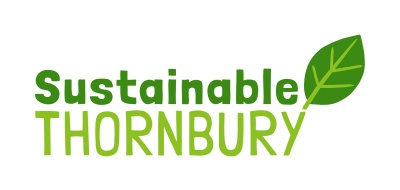 Sustainable Thornbury is a local community group, covering Thornbury and the surrounding villages.
We want to make our area more able to look after itself and be more resilient in the face of environmental challenges such as climate change and reducing resources such as oil and gas.
Amongst other things we have tackled waste, energy and food production as well as running two Ecofairs over the last few years. Our aim is to promote the well-being of everyone living and working in the area, by promoting greater local self-reliance and a more cooperative and inclusive community.
We are now embarking on a long term project to make the area more energy efficient locally by reducing energy needs and increasing energy production.
Meetings are held regularly (approximately monthly) depending on current activities.
Photographs on this page are kindly supplied by John Mills.


Get in touch
Sustainable Thornbury is open to anyone who lives or works in the area and who supports our aims. New members are always welcome.
For more information visit www.sustainablethornbury.org or email .


Morton Bridge Wild-flower Meadow and Orchard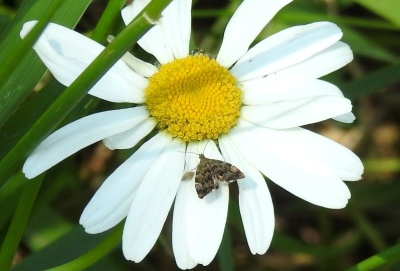 Image of a moth at the Meadow kindly supplied by John Mills
Sustainable Thornbury Orchard Group looks after Morton Bridge Wild Flower Meadow and the adjacent orchard, on behalf of South Gloucestershire Council.
The RHS Award winning Meadow was seeded in late October 2016; it was conceived to encourage our own native flowers and the various pollinators (Bees, Bugs and Butterflies) that depend upon them.
In the last two years yellow cowslips have produced an early, much-needed source of nectar for bees and other insects.
John Mills has been taking extensive photographs of the bees, butterflies and other insects which have benefitted from the newly created meadow habitat.
2020 was a particularly challenging year; not only did the volunteers have to contend Covid, but the Orchard suffered an outbreak of fire blight, a serious disease which can affect apples, pears, and some other members of the Rosaceae family. Thanks to swift, expert treatment the fire blight was eradicated, although the team will have to continue monitoring all the trees very carefully in future.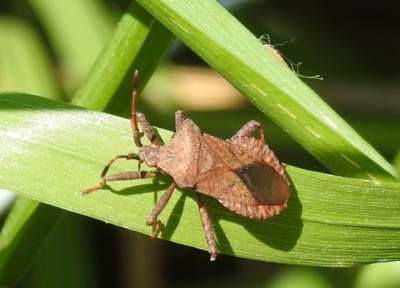 Image of a dock bug at the Meadow kindly supplied by John Mills
The wet weather in Spring 2021 made it difficult for Yellow Rattle seeds to germinate so after scything the Meadow the team reseeded small patches to regenerate this important wild flower. Plug plants of Scabious were also added, and large clumps of Snowdrops were divided so they could be replanted to increase coverage under the trees.
Thornbury Orchard Group have been planting trees for the Queens Platinum Jubilee and by the end of March will have planted about 70 trees or shrubs to help increase biodiversity and enhance the local environment for our community!
Do come and see the meadow and orchard. They are situated on the streamside walk, opposite the Anchor Inn, on the northern side of Morton Bridge. The meadow flowers are in bloom from April until end of August/September, when the meadow is scythed, and the trees are of interest throughout the year.
We are keen to encourage others with their own local wild-flower and community orchard projects. If you would like some advice, to volunteer with the Thornbury project, or just to be kept informed, please see our web page or e-mail or and we will reply to you.


Climate Action Thornbury and Surroundings (CATS)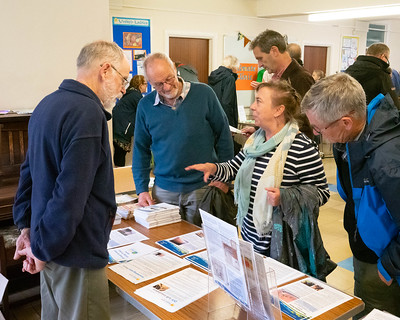 Climate Action Thornbury and Surroundings (CATS) was set up as a separate subgroup of Sustainable Thornbury in the wake of the IPCC report released in October 2018 that said the world had 12 years to prevent climate catastrophe.
The group believes that Thornbury and the surrounding villages need to become carbon neutral by 2030. While this is well in advance of the UK Government's commitment to become carbon neutral by 2050, the group believes that there is no time to lose in getting started and that for our community a 2030 target is achievable.
The group will build on previous successes of Sustainable Thornbury and will step up the level of activity to a whole new order of magnitude.
We are taking a holistic approach and is creating action groups to work on:
energy efficiency and generation in homes and businesses
energy efficiency and generation in community buildings including schools and churches
transport
better conditions for all sorts of wildlife
food systems
addressing waste issues
In addition to the action groups above we will have people looking at:
developing a baseline and systems that enable us to measure progress
public engagement and campaigning
We are currently contributing to the campaign to save Vilner Lane Wood and we also want to campaign to local developers to create meaningful wildlife spaces in their developments and also to incorporate renewable energy systems into new buildings.
With the group still being new, it is a great time to become involved. Whatever your skills or particular interests we will find a way for you to help us.
Visit our facebook page to find out more, fill out the contact form on www.sustainablethornbury.org or email . We are also on twitter.
Come along to the Sustainable Thornbury Green Drinks the first Wednesday of each month (except in January when it will be the second) from 7-9pm at Hawkes House.
The photo from our launch is courtesy of Stephen Bingham.



Forthcoming events
Wednesday 6th December 2023
Thursday 7th December 2023
Thursday 4th January 2024
Thursday 1st February 2024
Thursday 7th March 2024
Thursday 4th April 2024
Thursday 2nd May 2024