Sustainable Thornbury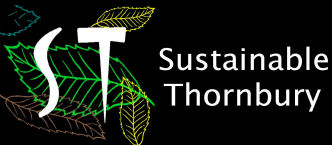 Sustainable Thornbury is a local community group, covering Thornbury and the surrounding villages.
We want to make our area more able to look after itself and be more resilient in the face of environmental challenges such as climate change and reducing resources such as oil and gas.
Amongst other things we have tackled waste, energy and food production as well as running two Ecofairs over the last few years. Our aim is to promote the well-being of everyone living and working in the area, by promoting greater local self-reliance and a more cooperative and inclusive community.
We are now embarking on a long term project to make the area more energy efficient locally by reducing energy needs and increasing energy production.
Meetings are held regularly (approximately monthly) depending on current activities.


Get in touch
Sustainable Thornbury is open to anyone who lives or works in the area and who supports our aims.
New members are always welcome.
For more information about Sustainable Thornbury, phone 01454 416778, visit www.sustainablethornbury.org or email


Cosy Community Places
Maggie Jeffery writes: "It's so good to get together with friends, get to know like-minded others and make new connections right here in our community. Thornbury always seems such a friendly happy place to live and we're spoiled for choice when it comes to activities, groups and places to learn. I always think this variety of choice is a part of our local culture.
I've been thinking a lot about those community buildings that we meet up in and also the energy costs involved. We know that energy is and will be a crucial issue in the future and that costs are likely to go up. How will this affect these buildings that will be increasingly costly to run?
So I was especially excited to hear from Alan Pinder from Sustainable Thornbury about a new scheme that might just help. He said: 'We're looking for people with an interest in community buildings to talk to us about putting solar panels on the roofs. It seems there is a potential opportunity to apply for funding.' "
Anyone interested do email Alan to find out more at .


Energy Costs
Want to make your home cosier and reduce energy costs?
Want to reduce energy costs in your community building or business?
Sustainable Thornbury is beginning a long term venture to make our area more energy efficient by providing local, practical help.
We're planning an energy advice 'shop' where you can drop in for help.
We're also setting up a network of local demonstration homes where you can see what others have done to reduce energy costs in homes and businesses like yours.
We are looking for people who would be happy to share their experiences with their neighbours – if you'd like to be involved please email or ring 01454 416778.
We've made a start already at The Chantry community building in Thornbury where we are working with the Trustees to monitor energy use, do a full energy assessment and then help to find finance to make the necessary improvements which will benefit everyone.
This is going to be an exciting, long term project which welcomes new people – so if you'd like to get involved in giving everyone, and especially those in fuel poverty, a cosier, more affordable energy future, please contact us on the above email or phone.