Thornbury Library
Next event
Thursday 13th May 2021
6pm: #WordOnline – Author Events Programme
Literature Works is partnering with South West Library services to launch Word Online - an exciting programme of virtual events in celebration of the work of diverse authors including Black, Asian and minority ethnic, disabled, and LGBT+ writers.
Throughout this tour we want to highlight the power that literature can have in affecting positive change by connecting authors from richly diverse backgrounds with new audiences in the South West.
We will be showcasing the work of disabled authors, writers from LGBT+ communities, and other voices from under-represented groups to broaden shared experience and celebrate the richness of the current literary scene. We also intend this programme to provoke, develop and challenge our readers to confront... Read more >>
---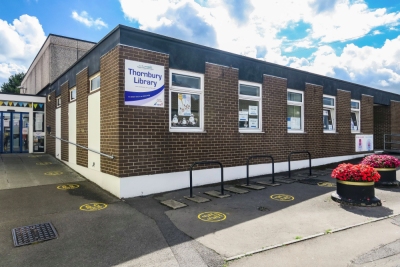 Contact Thornbury Library
Address: St Mary Street, Thornbury, BS35 2AA
Phone: 01454 868006
Fax: 01454 865657
Email:
Website: www.southglos.gov.uk/libraries or www.librarieswest.org.uk
Click here to view the current staffed and open access hours.
Photos of Thornbury Library are kindly supplied by RichMcD Photography.


Severn Beach Community Library
A pop-up library open two days a week; use your Active Library card to borrow from a changing collection of books, audio books and DVDs. Click here to find details, including days/times.


Latest News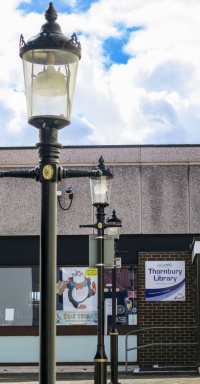 The latest from your library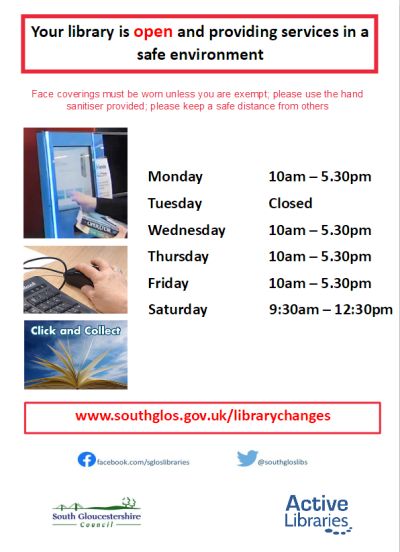 We are following the Government roadmap out of lockdown and offering services according to current restrictions.
These include self-service borrowing and free access to computers and Wi-Fi.
However services may change at short notice and our webpage www.southglos.gov.uk/librarychanges is kept updated.
You can:
Enjoy the simple pleasure of choosing your own items, we have lots of new titles in stock. Reading can be whatever you need it to be - relaxing, escapism, challenging, stress relief, fun! Our library catalogue of 2.5 million items gives you even more to choose from at your fingertips and now reserving items to collect from a library convenient to you costs less – just 50p per item (free for anyone under 18).
If you prefer, you can still order ahead using Click and Collect. Book a collection slot online or by calling 01454 865022, answer a few questions and we'll choose items based on your answers - for you, for your children or both.
Use a computer or Wi-Fi for free for 1 hour each day, including scanning and printing. Call 01454 865022 or email to book ahead and guarantee your space.
If you have a newborn or baby aged 0 – 12 months you can pick up a Baby Bag or Newborn Pack by visiting the library or ordering ahead using Click and Collect.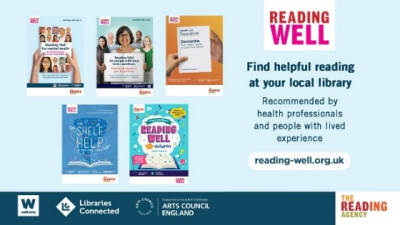 Books to help you look after your wellbeing
Now more than ever many of us find ourselves needing a bit of support and advice to get through difficult times; we have the expert endorsed national Reading Well collections of books for all ages on mental health topics such as stress, anxiety, depression, bereavement and grief free to borrow and reserve. Find out more at www.southglos.gov.uk/librarychanges.


#WordOnline – author events programme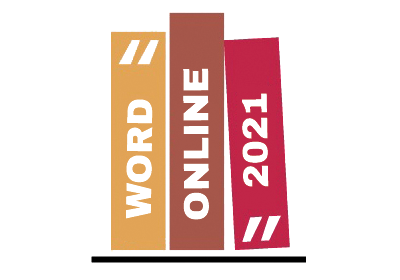 We're working with Literature Works and the South Western Regional Library Service on an exciting programme of online author events celebrating diverse voices.
Running until 28 October, each event will be hosted by a library from across the South West.
See the calendar for individual event details.
Find out more and save your virtual seat now at http://bit.ly/LWword.


Use the Library Online
Our free online library is always open 24/7: eBooks, eAudiobooks, eComics, digital magazines and newspapers continue to be available for library members to download anytime - www.southglos.gov.uk/eresources has all the details.
It now also includes Who Else Writes Like?, and for children, Who Next? where you can find authors who write in a similar way to those you have already enjoyed reading. Simply log in with your library card number and select South Gloucestershire.
If you are not already a library member you can join online at bit.ly/joinLW - membership is free.  You will receive an Online Membership number which will work for our digital services right away. Please enter an email address when you register for greater control of your account.








Forthcoming events
Thursday 13th May 2021
Thursday 27th May 2021
Thursday 10th June 2021
Thursday 24th June 2021