Thornbury Christmas Lights
Next event
Monday 12th September 2022
7.30pm: Thornbury Christmas Lights Association Meeting
The Swan, Thornbury
In the upstairs function room.
For more information, email the secretary Gill Dunkley below. All welcome.
Future meeting dates: October 10th, November 14th.

www.mythornbury.co.uk/xmaslights
Email:

---
How to contact Thornbury Christmas Lights Association
To help out with any of the many tasks needed to be done or for more information please contact any member of the Committee listed below: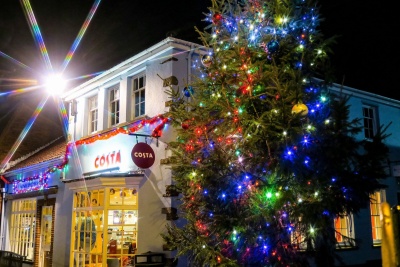 Chair: Brian Roberts Tel: 01454 822626
Vice-Chair: Rex Davis Tel: 07934 560207
Secretary: Gill Dunkley, The Old Malthouse, Gloucester Road, Thornbury BS35 1LH, Tel: 01454 281801 or email:
Membership Secretary: Terry Ray, Hollybush Cottage, Clay Lane, Thornbury BS35 3UA, Tel: 01454 412272
Treasurer: Fred Macey, 39 Squires Leaze, Thornbury, BS35 1TB Tel: 01454 418827
Publicity: Sally Higgins, c/o 12, Bluebell Close, Thornbury, BS35 1UN Tel: 01454 416681 or e-mail:
The photographs on this page are kindly supplied by RichMcD Photography.


How to join TCLA
The town's Christmas Lights are purchased, erected, serviced, maintained, taken down, stored, lovingly cared for and renewed as required entirely by the volunteers of the Thornbury Christmas Lights Association.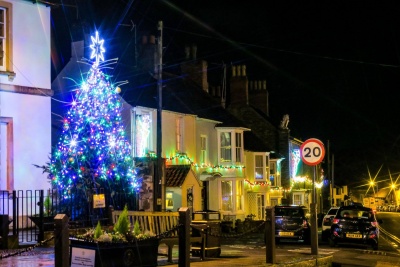 Each year the display costs a lot of money which must be raised by grants and donations and each year the display costs a lot of time and effort but we feel it's all worthwhile and benefits Thornbury greatly.
We do realise that a number of TCLA members are unable to offer any practical help with the lighting displays, but we are grateful to all our members and value your moral support.
Family Membership to include all those in the household is £5 annually. Life Family Membership is a single payment of £40.
To join the Association, please click here to download a membership form or send a cheque together with your name, address, telephone number (and e-mail address) to the Membership Secretary.
To make a one-off donation please send a cheque direct to the Treasurer Fred Macey.


History of TCLA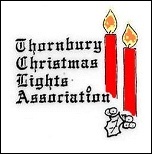 Thornbury Christmas Lights Association was formed in 1991. Historically, Christmas lights displays had been provided for many years by the then Thornbury Chamber of Trade.
When that body decided that it was no longer able to organise the annual High Street display, a group of volunteers came together to seek to rescue and continue what had already become a firm Thornbury tradition.
Almost twenty years later TCLA is still run by volunteers and with a number of the originals still among the ranks.
Sadly some are no longer with us, including Terry Press who worked tirelessly to keep the town's Christmas lamps alight and chaired the association until his untimely death in 2007.

The splendid Christmas Trees on Thornbury High Street are kindly donated to the town each year by RMB Hydroseeding.
Throughout its history TCLA has continued to improve and extend the displays and the cooperation of the St Mary Centre management has ensured full coverage of the town.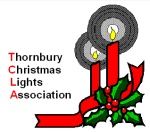 Although very much independent, the association could not carry on its work without the support of both Thornbury Town and South Gloucestershire Councils and also the many businesses, organisations and individuals who help in so many ways.
In 2013 local film-maker Catherine Dunn made a short film about their story - click here to see it on YouTube.



Forthcoming events
Monday 12th September 2022
Monday 10th October 2022
Monday 14th November 2022
Tuesday 22nd November 2022