In Good Hands
Contact In Good Hands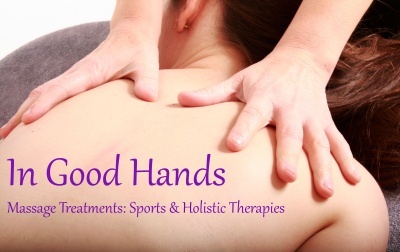 To find out more about Helen and her treatments or to book an appointment:
Helen Edwards is a qualified professional therapist (dip. ITEC) with over 10 years experience, offering massages for sports enthusiasts, computer users, manual workers - in fact just about anybody with muscular aches and pains.
She tailors each treatment to your individual needs: whether it's a deep tissue/sports massage, a relaxation/therapeutic massage to de-stress and ease headaches or a combination of holistic treatments, using essential oils will really help with many ailments and act as a powerful healing tool.
Helen is happy to concentrate on areas that need most work, so if you want just a back massage for a whole hour - no problem!
Her base is in Thornbury and she works at various Physio/Chiro clinics as well as providing a mobile service, offering on-site seated massage for offices, events, fairs and corporate days.
Helen's mobile service covers Alveston, Bradley Stoke, Chepstow, Thornbury, Wotton-under-Edge and surrounding areas.
She is also available for Ladies Nights, pamper and hen parties etc., with massage and beauty treatments - please ask for details.


Treatments available: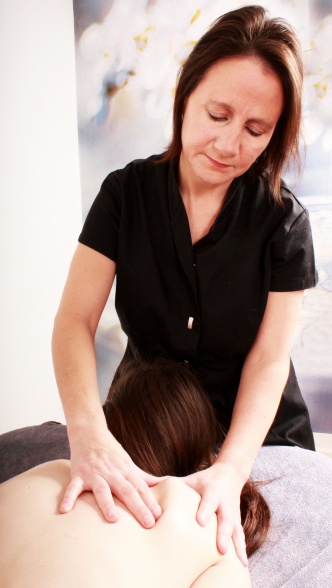 Sports/Deep Tissue Massage
Myofascial Release Therapy
Swedish/Therapeutic Massage
Aromatherapy Massage
Indian Head Massage
Manual Lymphatic Drainage (MLD)
Reflexology
Thai Foot Massage
Warm Bamboo
Hot Stones
Oriental Hand and Arm Massage
Facial Treatments
Ear Candling
Reiki
Crystal Healing
Relaxation packages
On-Site seated massage
Corporate days & events
Hen/pamper parties
Gift vouchers available for all occasions
Neal's Yard Products
Helen is also a stockist for Neal's Yard Organic Remedies that do an amazing range of lovely natural, organic products for your body inside and out including a fantastic skin care and body care range.
If you would like to have a get together with friends and enjoy a hand/foot spa treatment, mini facials or massages, you will receive a free Neal's Yard host gift, a free mini facial and discounted shopping.
Visit uk.nyrorganic.com/shop/helenedwards to find out more...


What Helen's clients say:
I have known Helen for over 10 years and she has always been helpful in treating and tweaking my ailing body. As a keen cyclist its imperative to look after yourself and Helen has put me back together too many times to mention. More recently I have been diagnosed with Crohns disease and she has gone the extra mile researching techniques to ease my digestive issues with aromatherapy and lymphatic drainage plus referring me to an allergy specialist to aid the many food intolerances I have developed alongside the Crohns. Can't thank her enough for her support over the years.
Rob Berry
I've been seeing Helen for regular Indian Head Massages and now incorporating Hot Bamboo massage on my neck and shoulders after suffering with chronic headaches and neck and shoulder pain due to having Fibromyalgia. It's made such a difference to my pain levels and mood. Helen is very professional, friendly and was genuinely interested in helping me as much as she could. I wish I had started seeing Helen a long time ago. I would thoroughly recommend her as a therapist, she is excellent.
Leanne  
I've been going to Helen for probably over 10 years now. Helen has a very calming, caring nature and has always listened to any problems I may have and discussed with me the best form of treatment. She always makes me feel at ease and she genuinely wants to help. One of the first treatments I had with Helen was Indian Head Massage, I suffered with migraines and sinusitis, they were so relaxing I soon felt great benefits. Two years ago I had a trapped nerve in my shoulder, which meant I was in terrific pain and didn't have full use of my hand as it had gone numb. After being fed up with taking strong painkillers, I went to Helen for weekly hot stones massages; I found that the massages gave me more relief, than the months of swapping tablets at the Dr's.Recently I have had very painful neck and shoulder due to working at a computer for long hours. Helen tried the hot bamboo massage, this was the best massage I have ever had. I thought it might be painful because I was in a bad way, but it was fantastic - so soothing and I found the results were amazing and lasted longer than a traditional massage. I have had many alternative therapies over the years, but I always revert to Helen, as she seems to help me the most.
TC Age 47
I spend half my life in front of a computer and the other half driving, so I rely on Helen to de-knot my shoulders, neck and back on a regular basis. She takes great care to understand what I need, and delivers it in a professional but caring manner. I always feel masses better after one of Helen's massages, and am delighted to recommend her.
Claire Jaggard, MyThornbury.co.uk