Thornbury Rotary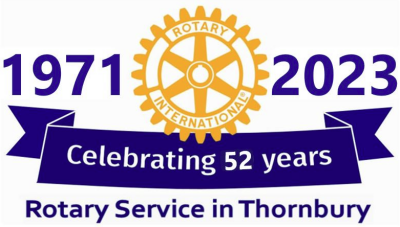 Thornbury Rotary Club has contributed to the life of the town and surrounding district since 1971, and has raised over £500,000 on behalf of many charities and local, national and international projects, charities and appeals.
Thirty-one founder members met at The Ship Hotel, Alveston for our Inaugural Meeting Ceremony on Friday 30th April 1971 at the Ship Hotel in Alveston, under the Chairmanship of the Rotary International Representative and District Governor.
Today we usually meet at The Ship, Alveston, every fortnight at 7.30pm.
We help and support our community by making use of members' personal skills and professional experience and our high-visibility yellow jackets are a familiar sight at street events and many other local activities.
We raise funds to donate to local, national and international projects and charities, and organise such important events as Swimarathon, Kids Out and Young Musicians, as well as lending assistance to events such as the Carnival, Fireworks Display and Christmas Lights Switch On.
All these things are a mere snapshot of support our Club has provided to the local community, and also to communities in need across the globe with projects such as Lend with Care and Tools for Self-Reliance.
We even support two giant APOPO rats searching for land mines!
Making the most of modern media, we use our club website and Facebook page to reach out into the Community to highlight our work and hopefully attract the next generation of Rotarians.


How to Contact Thornbury Rotary Club
Latest News
Rotary Youth Leadership Awards D1100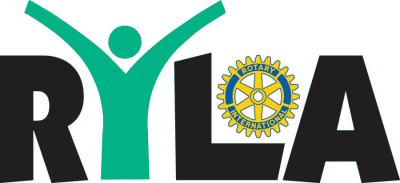 Rotary Youth Leadership Awards (RYLA) is a leadership program coordinated by Rotary Clubs around the globe. Each year, thousands of young people participate in this program.
Young people ages 14–30 are sponsored by Rotary Clubs to attend the event run by the club's district committee. Participants are chosen for their leadership potential. Rotary Clubs and the Rotary District cover all expenses for the participants.
The format of the event varies from district to district, but commonly take the form of a seminar, camp, or workshop to discuss leadership skills and to learn those skills through practice. Rotary clubs and districts select participants and facilitate the event's curriculum.
RYLA aims to:
Demonstrate Rotary's respect and concern for youth;
Provide an effective training experience for selected youth and potential leaders;
Encourage leadership of youth by youth;
Recognise publicly young people who are rendering service to their communities.
Every RYLA program covers the following core topics:
Fundamentals of leadership
Ethics of positive leadership
Importance of communication skills in effective leadership
Problem-solving and conflict management
Rotary's purpose and service to the community
Building self-confidence and self-esteem
Elements of community and global citizenship
For more information please use this link.
Candidates who aspire for a fun time while learning please contact Thornbury Rotary Club Secretary via the Club website (www.thornburyrotary.org.uk) for information.


Thornbury Rotary Youth Committee annual projects
"Kids Out" is part of a National Rotary day out for children with special educational needs held in June.
Competitions such as Youth Speaks, Young Musicians with activities Rotary Youth Leadership Awards RYLA and many more.
For more information visit our website: www.thornburyrotary.org.uk.


Rotary Club of Thornbury supporting International Projects
Tools With A Mission
Thornbury Rotary Club continues to support Tools with a Mission. This Christian charity collects unwanted usable tools, refurbishes them, sorts them into trade tool kits, and sends them to the developing world for livelihood creation.
TWAM believe that people living in extreme poverty don't just need a financial handout that may allow them to eat for one day; they need a way to consistently earn money and put food on the table every single day. Tools give them the push that they need to build their own businesses, giving them a sustainable income and putting poverty in the past for good.
Every year, they send around 16 containers filled with over 225 tonnes of refurbished tools to over 500 local community groups and skills centres, giving these communities the resources to develop a mindset of independence, not reliance.
If you would like to donate some of your old tools, contact Rotarian Robin Cole-Morgan on 01454 414281.


The Iron Lung
Since 1985, Rotary's key humanitarian priority has been to rid the world of polio.
Rotary spearheaded the campaign at a time when there were over 1,000 polio cases a day in 125 countries, paralysing and even killing children. Today, the number of cases is down by 99.9%.
Over the last 30 years, Rotary has donated US$2 billion to the eradication effort and has protected over 2.5 billion children from the disease through vaccination programmes. Inspired in part by Rotary's volunteer commitment and fundraising success, the Global Polio Eradication Initiative (GPEI) was launched in 1988.
This remarkable partnership which includes Rotary, World Health Organization, UNICEF, the US Center for Disease Control & Prevention and, more recently, the Bill & Melinda Gates Foundation. Rotary members continue to be key players in many aspects of the polio programme including on the ground in several countries as well as fundraising and advocacy. Failure to eradicate polio could result in as many as 200,000 new cases worldwide every year within a decade. Rotary members in Great Britain and Ireland have been huge supporters of End Polio Now and you can be part of making history.
For our part Thornbury Rotary is helping to educate people and youngsters in particular about Polio by making available a replica Iron Lung.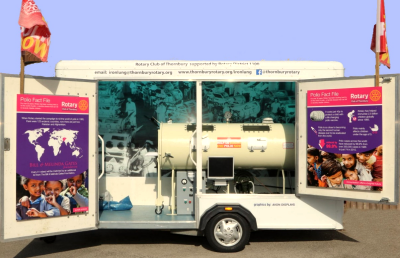 The Iron Lung exhibit was built by Roger Frank of the Rotary Club of Upper Eden in Cumberland and exhibited by him all around the north of England for many years, educating the modern generation about the scourge of polio and raising funds for Rotary's "Polio Plus" and successor campaigns.
Thornbury Rotary exhibited it at the local Tesco store in February 2018, attracting the interest of hundreds of shoppers and raising over £1200 - far more that a bucket collection would have netted. In collecting and returning the trailer it was discovered that Roger was about to retire it, having served its purpose in his area.
The Club has acquired it with financial assistance from Rotary District 1100 and is making it available for exhibition and educational purposes.
The photograph above shows the Iron Lung Exhibit in its trailer. The exhibit is totally self-contained including an electricity generator. It can be towed by any vehicle capable of towing a light caravan or trailer. On arrival just lower the stabilisers, open the doors and switch on!
After being displayed successfully in the Thornbury area and the wider Rotary District for 3 years the Iron Lung trailer has been given to our colleagues in North West England on long-term loan so that they can spread the word.
If you are interested in hiring the Iron Lung trailer for a future occasion or would like more details about Rotary's End Polio Now campaign please email .


Hearing Loop Survey in Thornbury
Members of the Rotary Club of Thornbury carried out a survey in 2016 of hearing loops available in the town. The purpose of the survey was to identify and encourage installations that operate to the benefit of those with hearing aids.
People with hearing aids can have a problem hearing accurately or understanding speech, particularly in the presence of other noise. This is because the aids, while amplifying the sound, do not compensate for the reduction in discrimination that also occurs with deafness. A hearing loop provides an additional signal, detected by t-coils in hearing aids, which greatly assists the understanding of speech.
As well as encouraging managers of facilities and business premises to consider installing loops, a leaflet has been produced to make hearing aid users aware of where useful loops are. You can click here to download your copy of the leaflet, and it is now available generally in the town, at the town hall, library, hearing aid dispensers and other premises. Clear advertising of the availability of a hearing loop is a great benefit to otherwise reticent hearing aid users, of which there are many!
This survey has been carried out very much as a one time activity. Any information on new loops or other observations can be advised to the Rotary Club by email to: or text to 07902 291401.
Further information and a copy of the leaflet can be obtained on the Rotary Website.