Thornbury Foodbank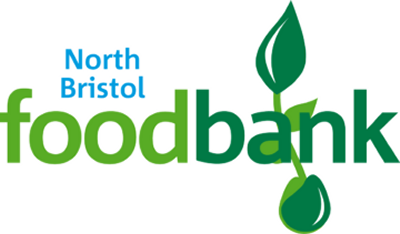 How to contact the Foodbank
The Thornbury outlet of the North Bristol Foodbank is based at Thornbury Baptist Church, Gillingstool, Thornbury BS35 2EG.
For more information, please call 0117 9791399, email or visit northbristol.foodbank.org.uk
To find out how you can support your local Foodbank, email or call 01454 419118.
Click here to see the latest Shopping List.
You can drop off donations at Grace Care Centre as well as in the basket in Tesco or left on the Thornbury Baptist Church steps on Fridays between 10.30am and 4pm.


Foodbank Now Delivery Only
You are longer be able to come to Thornbury Foodbank to receive food from the Foodbank.
We are now moving to 100% home delivery. This means that all vouchers received will be delivered by a foodbank volunteer to people's doorsteps.
All our Voucher Partners are able to issue e-vouchers, which will be sent to Thornbury Baptist Church if you live in our area. Please contact the organisation which usually issues you with a voucher.
If you already have a red voucher please take a picture of it and e-mail it to: , who we will then arrange for delivery as soon as possible.
If you are not sure who to contact or this is the first time you have needed a voucher for Foodbank please contact Southern Brookes Partnership on 07773 209943 or South Glos Shielding Team on 01454 864040.


What is the Foodbank?
The foodbank provides emergency meals for 3 days to people in short term crisis.
The crisis can be the result of problems such as benefit delay/withdrawal, separation, unexpected bills, debt, bereavement or redundancy.
It's a service for local people in short term difficulties, to remove the worry of feeding their families while problems are sorted out.
The Thornbury outlet is a Thornbury Churches Together initiative, with volunteers from all Thornbury's churches running it and donating food.
The North Bristol Foodbank is part of The Trussell Trust's UK wide foodbank network. 
The Thornbury branch was set up as a Thornbury Churches Together initiative, with volunteers running it and donating food.


How it works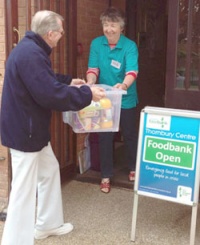 Food is collected by churches, schools, businesses, other groups and from the public by collecting outside supermarkets.
The food is sorted by type and date and stored ready for use.
Care professionals allocate vouchers to people they encounter at work who need food.
The client takes their voucher to Thornbury Baptist Church and collects a food parcel and other essentials such as toiletries.
While the parcel is prepared, trained staff talk to the client to see how else they can help, e.g. with debt advice or by liaising with official agencies.


This is a typical example of a client:
If, twelve months ago, someone had told me that I'd be relying on a 'Foodbank' to feed me, I would have laughed at them; life was going swimmingly.
Then, out of a clear blue sky, I found myself handed a series of events that were both unexpected and out of my control. I found my income cut off with, sadly, my financial commitments remaining. Before I knew it, I had mere pennies in my bank account and no food in my fridge.
Whilst I'd assumed that the welfare state that I'd paid into for years would help me, I found that I'd been pretty much hung out to dry. Every Government and Local Authority avenue I tried proved to be hopeless. Quite simply there was nothing available in the 'system' for people like me.
By the time I found the foodbank, I hadn't eaten for three days and I was desperate.
If I'm honest, there's far more embarrassment than pleasure having to go cap-in-hand to a food charity. That said, they treated me with understanding, compassion and moreover, like a human being.