Thornbury Town Council
Next event
Monday 30th April 2018
6pm: Youth Showcase Event
Armstrong Hall Complex
6-8pm
Calling all young people, parents and carers: You are invited to The Thornbury Youth Showcase - an opportunity to find out more about local organisations and activities available for children and young people, and for them to meet with members of those organisations.
Following on from the success of this event last year, we would like to hold it again, and as per last year it will include presentation of the Youth Awards. It would be good to have as many youth-based organisations present as possible, so please let the Town Hall know if you would like to have a space.
Also if your organization would like to provide some entertainment as part of the evening, please let them know.

www.thornburytowncouncil.gov.uk
Email:

---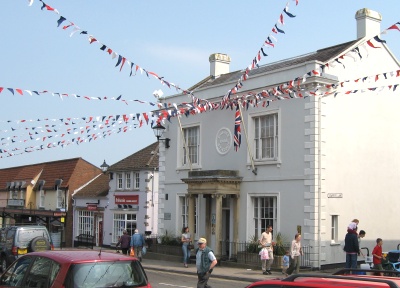 How to contact Thornbury Town Council
Address: The Town Hall, 35 High Street, Thornbury BS35 2AR
Tel: 01454 412103 (Mon-Fri, 9am-5pm)
Email:
Website: www.thornburytowncouncil.gov.uk


Latest News from Thornbury Town Council
Take Part in the Thornbury Neighbourhood Plan Survey
Now is your chance to have your say on the future development of Thornbury with the launch of a town wide community survey led by the Neighbourhood Plan Group.
Through this survey we hope to gather local people's views on what they feel is most important for Thornbury across a range of issues including services and facilities; development and housing; town centre and employment; environment and open spaces; and getting around.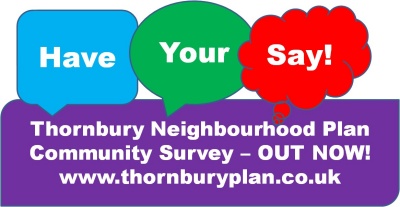 Helen Harrison, Mayor of Thornbury said "The views of the local community are central to the development of Thornbury's neighbourhood plan, so it really is important that local people participate and have their say. Our neighbourhood plan needs to reflect Thornbury, so that we can make sure that as our town grows, we don't lose it character and identity and we provide the homes services and facilities the town needs."
You can access the survey from: www.thornburyplan.co.uk or paper copies are available from the Town Hall. The survey is open until 26 February.
The Neighbourhood Plan group is facilitated and funded by the Town Council but is led and made up of local volunteers who started work last year on developing a neighbourhood plan for Thornbury.
This survey builds on consultation work already undertaken over the past 6 months and will be used to help shape and develop policies that will give Thornbury as a community more of a say and influence about new building and development in the Town.
The plan is likely to take two years to complete, but once approved through a local referendum, it will have statutory weight in the planning process, influencing planning decisions for years to come.


Mayor of Thornbury's Youth Awards
The Mayor of Thornbury's Youth Awards are prestigious awards made by Thornbury Town Council annually to give due recognition to the many young people of the Town who give of their own time and voluntary effort in supporting and assisting individuals, charities or projects with no payment or reward for themselves other than the satisfaction of knowing that they are contributing fully to the community in which they live.
Click here to download more information and a nomination form.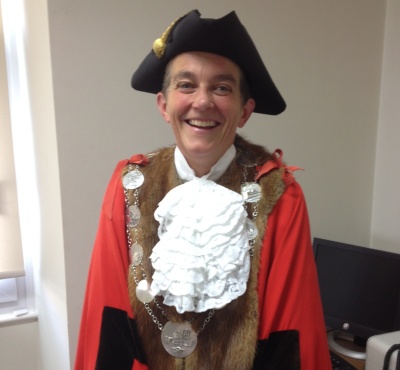 Thornbury's Mayor Helen Harrison said: "I am delighted to be offering the Mayor's Youth Awards.
The awards are open to all young people living within the Thornbury parish, and an organisation or school can nominate as many suitable candidates as they wish.
One of my key aims is to raise the profile of young people and their place in our community, and these awards are part of that.
Already in my visits to various events I have been very impressed with the number of young people involved in positive ways in a wide range of projects and organisations, and I am looking forward to being inundated with nominations so that we can really celebrate the youth of Thornbury."
Nominations must be received at the Town Hall by 4.00pm on 30th March 2018 and the presentations will be made at a special meeting to be held in April 2018.


The Thornbury Neighbourhood Plan - Have Your Say and Get Involved
The neighbourhood plan for Thornbury, which will shape the future of the town for the next 20 years, is now underway.
It is an opportunity for local people, who know and love the area, to make sure they get a say in the development of our town. It will look at where new homes, schools and businesses should be built, how they should look and what services are needed to support them.
The neighbourhood plan is a document that is developed by the community to reflect local planning needs. Once adopted, it has real legal weight and must be considered by the Local Planning Authority when deciding planning applications.
For the plan to be a success it needs local people to think about how they would like Thornbury to grow and develop. It is important to understand that the neighbourhood plan cannot be used to block developments already allocated to the area, but without a plan in place, local people will have no control over the location or type of new developments and how they relate to the existing community.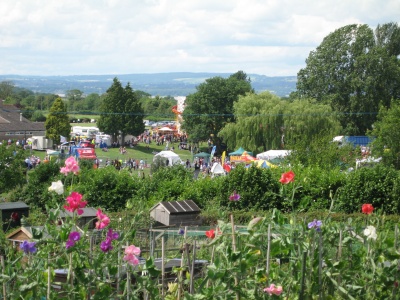 Chair of the Steering Group, Tricia Hillier points out 'Thornbury has always been a special place with a kind and welcoming community and a lovely environment. We want to make sure that as the town grows and develops we keep this community spirit and identity while maintaining and improving our environment.
That is why it is so important that we gather as many views as we can from local people on how we can achieve this to make sure that the plan we develop is one that has our community's wishes at its heart.' She adds 'we ask everyone to think about this most important of issues that will affect them and their families for generations.'
Cllr Helen Harrison, Mayor of Thornbury says: "The town council is keen to ensure that Thornbury develops in a way that best meets the needs and aspirations of the community in order for it to continue to thrive for the next 20 years. We know that there has been some concern raised about the level and pace of new developments and how they impact upon us all and this plan will help us to influence and shape how new development happens and to address these concerns."
Over the coming months there will be a number of events in the Thornbury area to give people an opportunity to provide feedback to the neighbourhood plan steering group.
Further information about the process, ways to have your say and consultation events are available from our website: www.thornburyplan.co.uk, our Facebook page and Twitter.
There is still an opportunity for people to join the steering group or one of the working groups and details on these and forthcoming events are available from 01454 412103 or by emailing .


Thornbury Town Council Grants
Thornbury Town Council is funded by the residents of Thornbury and therefore has only limited funds available to assist community organisations located and working in Thornbury for the benefit of the community.
Subject to funding being available, Thornbury Town Council is committed to providing assistance and support to local community groups which are set up to promote community life for Thornbury residents. The Council's financial support is provided by way of Grants which are decided against criteria set by, and which can be amended from time to time by, Thornbury Town Council.
Click here to download the grants policy (.pdf).
Click here to download a grant application form (.doc).


New community facilities being explored for Thornbury
Thornbury Town Council and South Gloucestershire Council have begun discussions to explore options to make best use of existing community facilities in the town to deliver services for the growing population. One option that will be looked into is whether the facilities currently provided at the Armstrong Hall could be better provided in the modern Turnberries building. South Gloucestershire Council will also consider whether some of its services, including the library, could be centralised at Turnberries, to develop a community centre with a range of activities on offer.
The Turnberries site has the potential to accommodate an Armstrong Hall equivalent size space for performances, with associated stage and changing rooms, as well as additional community meeting space and facilities. Further work is needed to explore whether the Museum could also be accommodated. Discussion will of course take place with the Turnberries and Museum Trustees.

As the Armstrong Hall complex, the library and Turnberries are important, well used community facilities, it is essential that the people of Thornbury are fully involved and consulted on the future of them and the services they provide. Over the next few months, much more work will be needed to establish the feasibility of the proposals. This will include considering the need for new facilities and the design for them, obtaining detailed costings and potential funding sources. This will be used as the basis for detailed consultation with the community and users over the summer before any decisions are made.
Cllr Helen Harrison, Mayor of Thornbury and Chair of the Armstrong Hall Trust said:
"It is important for the future of Thornbury, that as the town grows it has the community facilities to enable it to thrive. This idea is one that we should fully explore with local people to ensure that Thornbury gets the facilities it needs that will serve us well into the future. At this very early stage, absolutely no decisions have been made, the Town Council is taking a twin track approach and continuing to progress its plans for the Armstrong Hall at its current site, whilst exploring the potential of the Turnberries option."
Councillor Heather Goddard, Chair of South Gloucestershire Council's Environment and Community Services committee, said:
"Thornbury has a very active and engaged community of people who want access to services. While there is always change to the way we do things, it makes sense not only to use the best facilities on offer, but also to sit down with partners and discuss the best way of providing services together, if it means we can be more efficient and it will deliver what local people need."
"We are at the having conversations stage, but we want to make sure that the local community is part of that conversation. As we are able to develop options and ideas, we will make sure that residents get the chance to make their views known before we make any firm proposals."


About Thornbury Town Council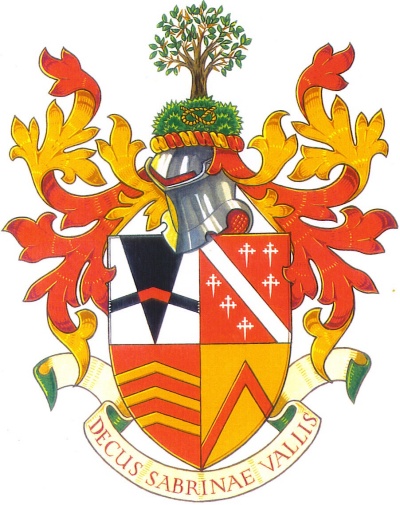 The Town Council is responsible for running Thornbury, and it's your first point of call if you want to find out more about where you live or how the town operates.
The Town Hall is easy to find, right on the High Street in a Grade 2 listed former police station, and you're welcome to drop in any time. It houses the Council chamber, offices and community facilities.
The building is also home to the Town Council's Tourist Information Centre, South Gloucestershire Citizen's Advice Bureau, Thornbury and District Volunteer Link, and Thornbury Pensioners' Drop in Centre.


How It Works
Town councillors meet every six weeks, apart from in August. Meetings are held at 7.30pm at the Town Hall and we're all encouraged to attend. There's an opportunity at each meeting for any of us to speak or ask questions on any relevant topic.
The Council has 16 members, each elected for four years. The town is divided into four wards: Central, South, North-East and North-West, and each ward has four Councillors. The Chairman of the Council, who is also Town Mayor, is elected by members each May.
Councillors serve on four committees: Town Development, Playing Fields and Cemetery, Environment and Finance and Policy - each of these submits reports and recommendations to full Council.


Thornbury Consolidated Charities
Known locally as the Thornbury Town Trust, this is a Registered Charity with seven trustees, three nominated by the Council. It helps organisations, groups and individuals in Thornbury.
The Trust owns property and land around Thornbury. It runs four almshouses and over 80 allotments on Daggs Field. If you would like to know more about the allotments, click here.


Hire the Hall
You can hire the Council Chamber and its kitchenette for meetings or conferences. There is also an excellent exhibition/meeting room, and the community room is available during weekends and evenings.
The Town Hall is fully accessible with a ramp on Silver Street and a lift to the first floor. Please contact the office staff for more details.


Civic Regalia
Thornbury has its own civic regalia, worn on appropriate occasions. The silver gilt Town Mace is carried by the longest-serving Councillor and is a replica of the solid silver original, which is in the Bristol Museum.
The Mayoral chain was created in silver by local craftsman John Pinch in 1974. The Mayor's escort and the Deputy Mayor also wear chains, and the Mayor and Lady Mayor wear robes and corned hats.






Forthcoming events
Monday 30th April 2018