Thornbunny Fortnight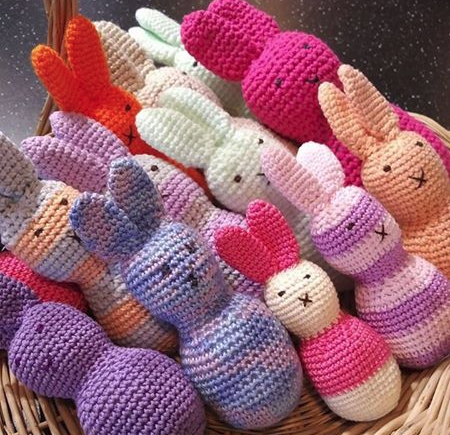 The first Thornbunny Fortnight was held through the Easter school holidays in April 2017, with 30 knitted Thornbunnies "lost" around town.
The Thornbunnies were knitted by two local ladies: Rebecca Tinney and Patricia Howarth.
We were all invited to help find the Thornbunnies in shops and businesses around Thornbury and enter their names into a Wordsearch for the chance to win Thornbury vouchers.
The winner of the £50 of Thornbury Vouchers for the Wordsearch competition for 2017 was Sophia Jones, age 8, from Thornbury.
There were also competitions run by Thornbury Library - one to write a story about the Thornbunny family and one to colour in a portrait of the Thornbunnies drawn by the talented Richard from Surroundings.
The winners of the colouring competition were: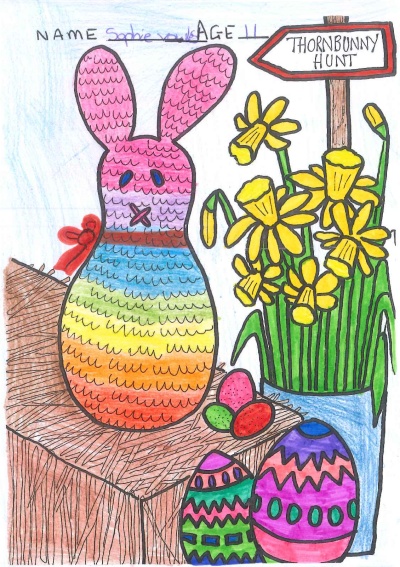 Pre School
1st Seren Jones
2nd Sophie Such
3rd Finlay Lewis
KS1
1st Scarlett O'Sullivan
2nd Grace Cornock
3rd Anna Flack
KS2
1st Sophie Vowles (pictured right)
2nd Emily Fear
3rd Sonia Davies
The winners of the writing competition were:
KS1
1st Riley Rees
2nd Tati Pinho
3rd Calli Welsh
KS2
1st Alice Chappell
2nd Adam Eastman
3rd Anna Shrimpton
Simpson Solicitors also held a competition to guess the number of carrots in a jar to win a £50 Toys 'R' Us voucher - the winner was Lily Janes.
Lots of local businesses ran special chocolate- and bunny-themed offers throughout the fortnight.
Thornbunny Fortnight was organised by Thornbury Chamber of Commerce. To see the photos of the bunny antics, visit the Chamber's facebook page.
For enquiries please email .
We hope the Thornbunnies will come back to Thornbury in 2018!