Thornbury Parenting Together

Parenting is a very challenging role and often parents wonder where to go for support. That is why Thornbury Parenting Together exists.
We offer Parentalk sessions and a service called Parent Buddies. Both are free.
If you have children aged 0-18 and need a listening ear, want to talk through a particular parenting issue such as managing challenging behaviour, coping with stress, or managing your child's sleep, Parent Buddies can offer FREE support within agreed timescales.
Parentalk

Being a parent is one of life's greatest joys, but it is also one of its biggest challenges.
There's hardly a mum or dad on the face of the earth who, at times, is not overawed by the task of parenting.
That's why we've decided to run Parentalk.
In a series of sessions, Parentalk looks at the topics that affect just about every family.
Parentalk Primary is a course for all parents of children aged up to the early teenage years.

The group meets fortnightly now on a Wednesday evening. We welcome local Mums and Dads with teenagers in the home.
We have had some laughs, and a few tears. Each session sees about 20 to 30 parents enjoying each others company whilst they "offload" and relax for a bit.
It seems to be a good forum for those, regardless of background to share their experiences of parental pressures in the diversity of modern family life.
If you have recently moved into the area with teenagers - feel free to join us.


Parent Buddies
Parent Buddies is a one-to-one listening and befriending service for parents and carers. It has been designed to offer short term specific support, depending on individual needs.
This may include: listening, befriending, supporting parents with specific issues causing stress, and signposting parents to specialist services when needed.


Who
The service is for parents who feel they would benefit from a listening ear and support based on mutually agreed timescales.
All our Parent Buddies are volunteers who are parents or grandparents.
Our volunteers are required to receive regular supervision and training.
Training includes: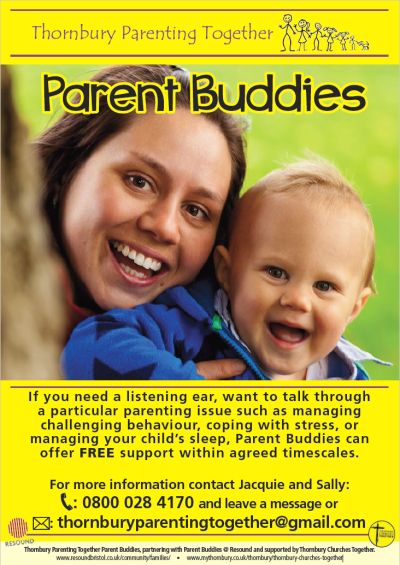 Working with families
Listening skills
Safeguarding
Where
Volunteers will agree with parents suitable venues/times to meet.


What Parent Buddies Are Not
They are not counsellors, not specialists, and not forever.


How
Parents can either self-refer using Thornbury Parenting Together referral forms or can be referred by a professional.
We will match parents with available and suitable Parent Buddy volunteers. The volunteers will then contact parents to offer an initial session.
The initial session will be an opportunity to discuss and agree goals and sign a simple contract, including a confidentiality statement.
For more information contact Jacquie and Sally: call 0800 028 4170 and leave a message - we will get back to you - or email .


Thornbury Parenting Together Parent Buddies, a Resound Parent Buddies initiative, supported by Thornbury Churches Together.