Friends of Thornbury Carnival
Next event
Saturday 7th July 2018
10.30am: Thornbury Carnival 2018
Mundy Playing Fields
Pre-Parade Town Centre Entertainment
10.15 Morning, Town Centre, 75 minute long Parade led by The Band of the Royal Signals Regt.
12 noon Carnival site Gates open. 5.30 Stall Trading ends
12 hours of entertainments on 2 stages, including a Top Tribute Band, and at 6 other locations
100+ Charity, Business and Club Stalls

www.mythornbury.co.uk/carnival

---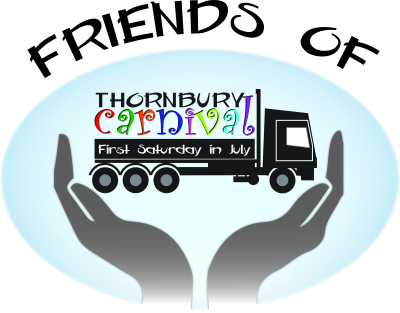 How to contact Friends Of Thornbury Carnival
For enquiries, please contact Ian Walker at: .


Latest News
Friends Website List
Click here to download our Friends Website List, last updated November 2016 [.pdf]


Forthcoming Friends' Events
See the events section at the end of this page and the calendar for more details of Friends' events.


About FOTC
The 'Friends of Thornbury Carnival' (FOTC) evolved from a desire to secure the future of this major Community event.
The main aim of the Thornbury Carnival has always been to create a 'social and economic benefit' to the community of greater Thornbury. However, the committee realised the event's insecure funding base threatened its continuity.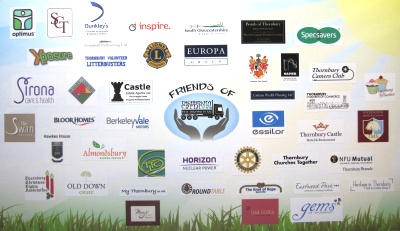 They approached the local business community for help, and the FOTC was launched to around 30 businesses in July 2014 at Thornbury Castle.
Companies join the Friends group in return for an annual donation for a 3-year period, at a monetary level selected to suit the individual businesses.
The advantage of this form of funding is that the Committee has a known and assured level of funding from which to prepare the next Carnival, and the businesses can budget for their future donations.
The intention is to repeat this appeal to further businesses over the 3-year period in order to generate an increasing Friends' fund.
At the end of each company's 3-year term, it is hoped that they will continue the Agreement for a further 3 years to give continuity of funding at the peak level.
The benefits to the Friends are;
To be listed on this Friends webpage, on a Friends Board to be on public display in Town, in the Carnival Programme each year and in the Friends Directory.
To socialise and network with other members of the local Business community at Friends Meetings, at least twice per year.
Friends of Thornbury Carnival became an unincorporated association with its own Constitution and Committee that were ratified at the first AGM held on 19 November 2015. The Friends Committee now comprises;
Chair - Ian Walker
Secretary - Penny Taylor
Treasurer - Under appointment
Membership Secretary - Deborah Williams
Business Representative - James Murray (Hawkes House)
Business Representative - Under appointment
Civic & Volunteer Representative - Zoe Wickham (Inspire Arts Trust)
To contact the Committee please do so by e-mail to


How to Join
Any organisation, or indeed any individual, wishing to consider joining the Friends of Thornbury Carnival should click here to download an Enrolment form, which can then be filled in manually, scanned and returned electronically to . Alternatively, send an e-mail to this address and say that you wish to send the form by post.
On receipt of your completed Enrolment form, an Agreement letter signed by the Carnival Chairman will be drafted and sent to you by post.
You should check that this is in line with your application data, then counter-sign it to accept and return it to FOTC either by post to the address given, or scan it and send it as an attachment by e-mail to .
Click here to download a sample of the Agreement letter and associated 'Terms of Friendship'.
When the counter-signed Agreement is received by FOTC, a Friends Certificate will be prepared and sent to you by post. [Click here to download a .pdf sample of the Certificate]
If you have any questions or want further information about the Friends programme, please e-mail your request and contact details to .


How Friends Funding works
When businesses join the Friends of Thornbury Carnival they agree to make an annual investment in the Carnival for a 3-year period.
A company can select from three entry levels; £150 per annum, £500 per annum, or a higher level by individual agreement.
Annual payments can be made by cheque, monthly or annual Standing Order, or BACS depending on the Friend's preference.
Towards the end of the 3-year term, a discussion will be held between the Friend and Thornbury Carnival with the aim of establishing a follow-on Agreement to maintain that Friend's support for the Fund.
By approaching a different group of companies in each of the second and third years, it is hoped to build the Friends Fund up to an annual income of £20,000 by the end of the 3 years and then maintain that level into the future.



Forthcoming events
Saturday 7th July 2018