Horizon Nuclear Power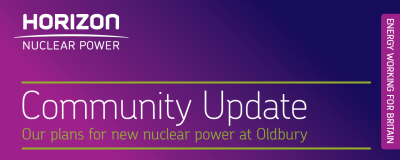 UK ABWR reactor technology approved - Major leap forward for Horizon's Wylfa Newydd
Horizon Nuclear Power today (December 14th 2017) welcomed the announcement that the UK ABWR (Advanced Boiling Water Reactor) has been approved for use in the UK, paving the way for the technology to be built at Horizon's planned developments on the Isle of Anglesey and in Oldbury-on-Severn.
These projects will create tens of thousands of jobs and ultimately provide more than 5.4GW of clean, secure and affordable electricity, enough to power some 10 million homes.
Approval marks the conclusion of the Generic Design Assessment (GDA), a rigorous technology assessment by the UK regulators. This milestone has been achieved on time, thanks to the proven quality of the ABWR and the close collaboration of the Hitachi-GE, Horizon and GE-Hitachi team.
This is another achievement for the ABWR (Advanced Boiling Water Reactor), four of which have been successfully built and operated – to time and budget - and the design has now achieved approvals under four different regulatory regimes worldwide.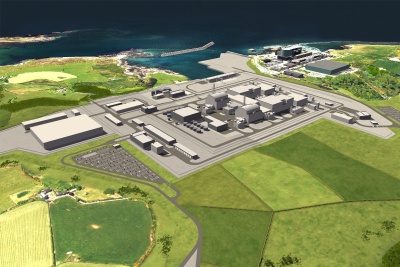 Duncan Hawthorne, Horizon CEO, said: "This is a huge milestone for Horizon and a major leap forward for us in bringing much-needed new nuclear power to the UK. Nuclear can deliver high volumes of stable low carbon energy, which makes it a vital part of the country's electricity mix and once up and running, both Wylfa Newydd (pictured left) and our Oldbury site will supply clean, reliable power to the UK for decades to come.
"It's testament to the strength of the combined team, and the proven nature of the technology, that the GDA process has been completed and delivered on time." Tadashi Kume, President & Representative Director of Hitachi-GE, said: "Meeting the famously high standards of the UK regulators and completing GDA within our five year target further demonstrates the strength of this project, and capability of the team delivering it. GDA is a thorough and rigorous assessment, and receiving approval on schedule is a credit to the outstanding design of the UK ABWR.
"Since 2012, we have been the subject of extensive assessment and scrutiny by the regulators. Throughout this process, their expertise and professionalism has been second to none. We now look forward to supporting Horizon's ramp-up of site-specific licensing for Wylfa Newydd."
The GDA approval of the UK ABWR comes on top of steady progress being made by Horizon with the Wylfa Newydd project. This includes the submission of the Site Licence Application, and successful completion of a third public consultation.
The news has also been welcomed more widely:
- Albert Owen MP, Member of Parliament for Ynys Môn, said: "I welcome today's news that the Generic Design Assessment for the UK Advanced Boiling Water Reactor has been completed. The four years of hard work and dedication is admirable. This is a significant milestone and I am pleased that the UK ABWR has met the very high standards of safety required by UK regulators. I look forward to continued engagement with the Wylfa Newydd project team and its onward development."
- Dennis Evans, Chair of the independent Wylfa Newydd Project Liaison Group, said: "I'm very pleased to note this significant milestone in the project's development. Completion of the rigorous four-year assessment of the UK Advanced Boiling Water Reactor to the satisfaction of the UK Regulators, and within the timescale set by Hitachi-GE is notable and commendable. I look forward to seeing the final detailed proposals for the Wylfa Newydd development in due course, and congratulate the team in bringing the Generic Design Assessment to a satisfactory close."
- Guto Bebb MP, Parliamentary Under Secretary of State at the Wales Office, said: "New nuclear has a central role to play in our energy future, delivering secure, low carbon power and supporting jobs and economic growth. Helping to put Wales at the forefront of future technologies and clean growth projects are core objectives of our Industrial Strategy. We must however be absolutely sure that any nuclear reactor used in this country meets our rigorous safety standards. Today's announcement is an important step forward for the Horizon Nuclear Power project at Wylfa Newydd on Anglesey which will bring thousands of jobs for the local area and new nuclear power to millions of homes across the UK."
- Ian Price, Director of CBI Wales, said: "Wylfa Newydd will bring huge business benefits across Wales and we therefore warmly welcome today's announcement. Businesses on Anglesey and across North Wales are already hard at work on the project and today's news is a big step towards even more opportunities for Welsh companies."
- Ken Skates AM, Cabinet Secretary for Economy and Transport, Welsh Government, said: "I am delighted that the Hitachi-GE UK ABWR technology has today successfully concluded Step 4 of the ONR's Generic Design Assessment process. The completion of this final step to the original timetable is a significant achievement and I congratulate all involved in making this happen. We look forward to the Wylfa Newydd project making further significant strides in 2018".
- Cllr Llinos Medi, Leader of the Isle of Anglesey County Council, said: "This is a key milestone for Hitachi-GE, Horizon Nuclear Power, and another important step forward in the Wylfa Newydd journey. The Office for Nuclear Regulation (ONR) is renowned as the most stringent regulator in the world and its approval following a comprehensive GDA assessment gives us confidence in the safety and security of the technology provided by Hitachi-GE. The Isle of Anglesey County Council will continue to engage with Horizon Nuclear Power. We are committed to working in partnership to ensure that the project benefits Anglesey and wider North Wales region."
- Rebecca Long Bailey MP, Shadow Secretary of State for Business, Energy and Industrial Strategy, said: "I welcome the announcement by Horizon Nuclear Power that they have completed the GDA process and move one step closer to delivery of this project. Nuclear is an important part of a balanced energy strategy to decarbonise the economy. Wylfa Newydd will be a key component of this energy strategy while creating thousands of highly skilled well paid jobs in parts of the country that sorely need them."
- Richard Harrington MP, Energy Minister at the Department for Business, Energy and Industrial Strategy, said: "Today's announcement is a major milestone for the development of new innovative nuclear plants in the UK. As we set out in our Industrial Strategy, we are putting the UK at the forefront of future technologies which have the potential to create value and jobs across the UK. Horizon Nuclear Power's nuclear technology is one example of this."
- Sarah Beacock, Chief Executive of the Nuclear Institute, said: "This is an important achievement for Hitachi-GE and all those that have worked on this exciting project. In completing the Generic Design Assessment (GDA) for the UK Advanced Boiling Water Reactor (ABWR) it further displays to the public, the high standards and behaviours of nuclear professionals working in the industry."
- Tom Greatrex, Chief Executive of the Nuclear Industry Association, said: "The design approval of the UK ABWR is good news for the UK's new nuclear programme and signals the conclusion of a thorough, rigorous and detailed process by the UK's independent regulators, widely acknowledged as world class. With two thirds of UK power stations closing between 2010 and 2030, this is an important step in providing secure, reliable and low carbon nuclear power for the future, to homes, businesses and public services. The nuclear sector already accounts for £400 million of Welsh GDP. Future projects will build on this, creating highly skilled jobs and further economic benefit to the communities in which it will be built."


Horizon Nuclear Power Community Update
Click here to download a copy of Horizon Nuclear Power's Autumnn 2017 Community Update newsletter, which highlights the work we have carried out in the local community.
We hope you will find this update useful as we continue to keep local people informed about proposals for a new nuclear power station near Oldbury-on-Severn.
This newsletter is hand-delivered to around 16,000 homes on both sides of the Severn. Copies are also distributed to One Stop Shops and libraries throughout South Gloucestershire, The Forest of Dean and Stroud District Council.
If you have any queries, or would like additional copies, please call us on our Freephone number: 0800 130 3125 or email us at: .


Background Information
Horizon Nuclear Power was formed in 2009 to develop new nuclear power stations in the UK. It was acquired by Hitachi, Ltd. (TSE: 6501) of Japan in November 2012. The company is developing plans to build at least 5,400MW of new nuclear power generation plant at Wylfa on the Isle of Anglesey and Oldbury-on-Severn in South Gloucestershire. Its power station sites will employ up to 850 people each once operational with construction workforces of up to 8,500.
Hitachi-GE, a joint venture established by Hitachi, Ltd. (TSE:6501) and GE in July 2007, as one of the world's leading comprehensive plant manufacturers, engages in the development, planning, design, manufacture, inspection, installation, pre-operation, and maintenance of nuclear reactor-related equipment and is able to execute integrated project management. Hitachi-GE has been involved with 23 reactors in Japan to date, including those currently under construction.
Wylfa Newydd is Horizon's first site and we aim to secure initial electricity generation there in the first half of the 2020s, with Oldbury to follow. No decisions have yet been made about our Oldbury project and the go ahead would not happen until we've carried out formal consultation with local people, allowing them to have their say and help shape our proposals. We're working on the detailed timescales for this.


Contact Horizon
If you have any queries or issues you would like to raise with Horizon, please call Freephone number 0800 130 3125 or email:
For more information on Horizon Nuclear Power, including supplier registration and job opportunities, visit: www.horizonnuclearpower.com
You can write to: Horizon Nuclear Power, 5210 Valiant Court, Gloucester Business Park, Delta Way, Gloucester, GL3 4FE.
For more information on Hitachi, please visit the company's website at www.hitachi.com

Talks to local groups
Members of the Horizon Oldbury development team have given a number of presentations on our proposals to local groups and organisations, with further talks scheduled.
The meetings are a great way for Horizon to bring local people up to date and provide an opportunity for members of each group to raise any specific issues or concerns they may have about the project.
As part of their continued programme of local engagement they are keen to schedule more of these individual events and would like to hear from more local groups or organisations who would be interested in meeting with them.