'Give Us A Sign' competition

Win two tickets to 'Give Us A Sign'.
Last date for entries is Wednesday 31st August 2022.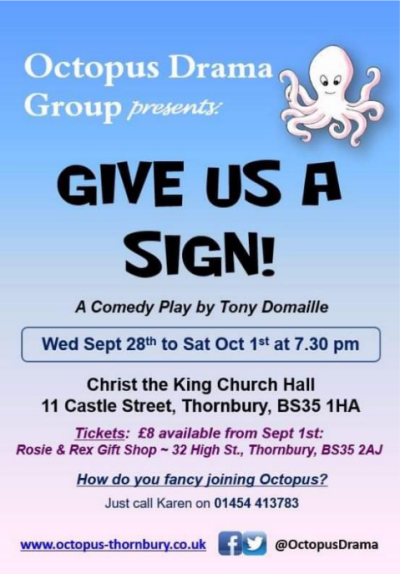 How hard could it be to make money as a clairvoyant? Find out with free tickets to Octopus Drama Group's performance of the comedy play 'Give Us A Sign'.
Ken is out of work and decides he will become a clairvoyant to make money. What he doesn't reckon on is MI5, the French and the Americans all wanting to use his skills to contact a dead scientist who has secrets they all need...
'Give Us A Sign' is a comedy play by Thornbury playwright Tony Domaille, filled with brilliant characterisations and many hilarious moments.
For your chance to win two tickets for the opening night on Wednesday September 28th at 7.30pm, simply send us your details using the form below.
Octopus Drama Group has been performing in CTK Church Hall for over 50 years and would love you to join them in their latest venture.
Click here for more information about the performance, and if you're not the lucky winner this time, you can still buy tickets at £8 from the Rosie and Rex Gift Shop on Thornbury High Street - available from September 1st.