Thornbury book, bag and guide competition

Win a Thornbury book, bag and guide set from Thornbury Chamber.
Last date for entries is Wednesday 30th September 2020.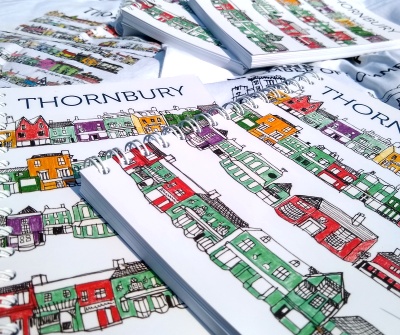 It's "back to business" in Thornbury this September, so show your support for our town by entering to win one of ten sets of shopping bags and notebooks, plus a Thornbury Guide, hot off the press!
The bags and books, commissioned and kindly supplied by Thornbury Chamber, feature the stunning illustrations of Thornbury's High Street by Richard Edwards at Surroundings.
The popular Thornbury Guide, including Richard Edwards' beautiful hand-drawn map, has been updated and reprinted by the Chamber, so you can find all your favourite shops and businesses around town.
For your chance to win one of the bag, book and guide sets, simply send us your details using the form below, and we'll enter you into the draw.
Since the COVID-19 lockdown began, Thornbury's businesses have been working as hard as they can to support our local community, launching home delivery and click and collect services where possible to allow us to shop safely.
Now they're all able to re-open fully, they're hoping we'll support them to build a thriving community for all.
Thornbury Chamber's mission is to support and promote Thornbury and its businesses. To find out more, click here.