Finding Buttons Pantomime competition

Win two tickets to Finding Buttons.
Last date for entries is Tuesday 31st December 2019.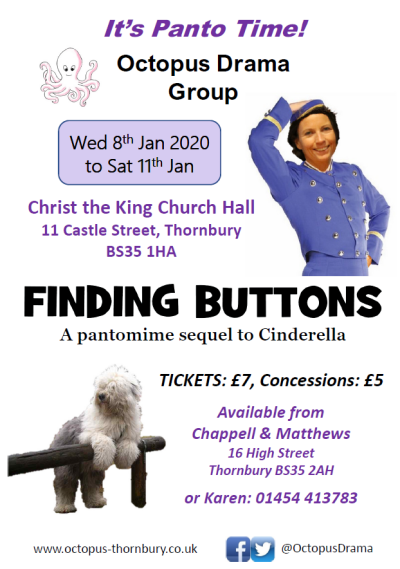 What happened to Buttons, Cinderella's long time friend and admirer? Here's your chance to find out with Octopus Drama Group's new and original pantomime 'Finding Buttons'.
For your chance to win two tickets for the opening night on Wednesday 8th January, simply send us your details using the form below.
Queen Ella is happily married to her Prince Charming and living in her palace. Unfortunately her family have moved in with her. Her wicked stepmother (still wicked), her ugly sisters (still ugly) and her father (still long suffering) are all there to add to the hilarity.
Many new characters appear and there are lots of questions to be answered. Will the fairy godmother find her magic? Who are the Pinkly Blinders? What secrets are held by the strange painting on the wall? But, most important of all, what became of Buttons?
Take your seats to find out the answers to these questions and enjoy a fun filled evening.
Click here for more information about the performance, and if you're not the lucky winner this time, you can still buy tickets from Chappell and Matthews, Thornbury High St, or call Karen on 01454 413783. Ticket price - £7 adults, £5 children under 18.