Cromhall Flower Show & Village Fayre competition

This competition closed on Friday 23rd August 2019.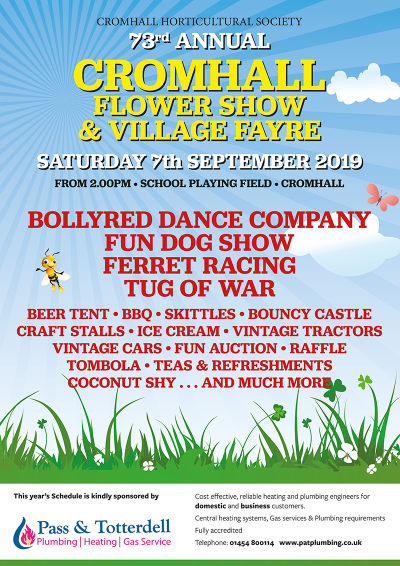 It's the biggest event in Cromhall's social calendar, and here's the chance for you to visit the Cromhall Flower Show & Village Fayre on Saturday September 7th for free!
We have entry tickets for two people to give away, plus a voucher for a cup of tea or a cold drink, and a cake of your choice each.
To enter the draw, simply send us your details using the form below.
Cromhall Flower Show & Village Fayre is an open show, so entries are always welcome from neighbouring villages and further afield.
There's a category for everyone, including home grown vegetables, fruit and flowers (e.g. from "the brightest flower in my garden" to "an unusual shaped vegetable"), through to home cooking, crafts and even photography.
Try your luck on the raffle and tombola, test your skill at skittles and the coconut shy, or browse the stalls for crafts, books and toys.
Then when you're in need of refreshment, head to the tea tent for delicious sandwiches, cakes and biscuits, enjoy a local brew in the beer tent, or treat yourself to an ice cream.
The afternoon ends with cup presentations and an auction of flowers and produce.
To find out more, visit the Cromhall Flower Show and Village Fayre feature page.



Sorry; we are no longer accepting entries for this competition.