Thornbury Rotary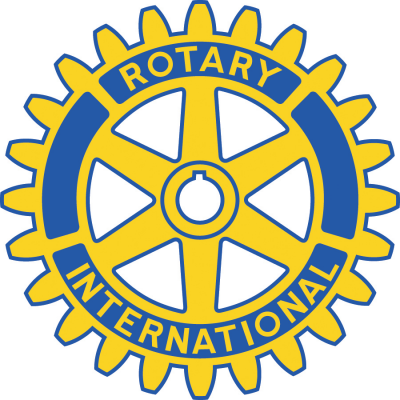 How to Contact Thornbury Rotary Club
Visit the website for more information: www.thornburyrotary.org
See the facebook page: www.facebook.com/ThornburyRotary
Follow on Twitter: @ThornburyRotary
Contact the secretary by email:


Thornbury Rotary Swimarathon 2017, 3rd – 5th March
Huge Success with over £20,000 raised for charity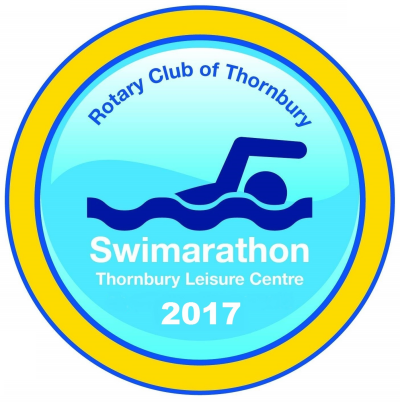 We are delighted to announce that the amount raised for this event has now exceeded our target figure of £20,000. We had 64 teams taking part and the number of lengths swum were 8,090 (over 125 miles). This community event has always been very popular and we're particularly pleased with how many people wanted to be involved, to have some fun whilst raising funds for important charities. The main beneficiaries for 2017 are St. Peter's Hospice and Incredible Kids. Resulting from the success of the Swimarathon, Rotary is in a very good position to also support many other charities and worthy causes.
Thornbury Rotary is proud to be able to support St Peter's Hospice (www.stpetershospice.org.uk). This Bristol Charity runs almost entirely on donations, caring for adults with life-limiting illness. Their aim is to improve the quality of their living and dying while extending care and support to their families and loved ones.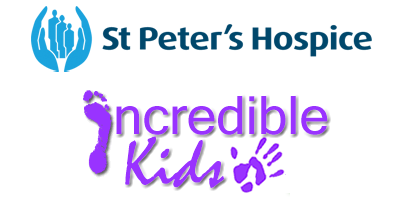 Thornbury Rotary is also proud to be able to support Incredible Kids (www.incrediblekids.org.uk). This local charity offers a safe place for families with children who have special needs to come together and spend quality time as a family. This will provide short breaks from the pressures of family life in a secure space which meets the needs of a variety of children, reducing the inequality and social isolation.
Our sincere thanks to all the business sponsors, individual sponsors, supporters, the teams and their captains and anyone else involved in the Swimarathon this year, helping to make it so successful.
Planning has already begun for Swimarathon 2018 and anyone wishing to enter a team or to enquire about this event can email:


Purple 4 Polio
Many Thornbury residents have noticed the temporary Rotary Purple4Polio banner at the Tesco Roundabout. This banner of course deserves some explanation. In a few weeks it will be joined by 5000 crocus flowers that have been planted in front of the banner.
This has been done with the kind permission of Tesco to highlight Rotary's commitment to the global eradication of Polio. Tesco have further allowed us to bucket collect in aid of this project at their store.
In 1985 the Rotary Club of Thornbury joined forces with all the other Rotary Clubs worldwide with the aim of eradicating Polio. Polio is incurable but completely vaccine-preventable.
In the ensuing years Rotary has contributed in various currencies $1.6 billion and countless volunteer hours to immunize more than 2.5 billion children in 122 countries. Rotary's advocacy efforts have additionally played a role in decisions by donor governments to contribute more than $7.2 billion to the global effort
Rotary's partners include World Health Organization, the US Centre for Disease Control, UNICEFF, the Bill & Melinda Gates Foundation.
The Rotary Club of Thornbury has been proud, in a small way, to be associated with this project and together with other local Clubs around the world have been instrumental in making redundant iron lungs to the extent that there is now a generation of children and grandchildren who have no knowledge of their use.
Today there are only three countries that have so far never stopped transmission of the wild poliovirus: Afghanistan, Nigeria, and Pakistan, they are the reason why this project continues. We are pleased that fewer than 75 polio cases were confirmed in 2015, which is a reduction since the 1980s when the world saw 1000 cases per day.
We are pleased members of the public are interested, the purpose is to make aware this work of Rotary, we of course hope the good citizens of Thornbury will support us safe in the knowledge that every penny raised will go to our Purple 4 Polio eradication project.


Wanted - Baby Clothes
Sandra's Baby Clothes, a Rotary Charity, has been sending clothes and shoes for children to North East Romania for at least ten years.
To date clothes to the value of approx. £250,000 have been sent to Romania and Moldova.
Thornbury Rotary Club continue to support this simple but effective charity and once more are seeking good quality, clean clothes for infants age up to 2 years and bedding for cots and clothes for use for up to 11 years old. These could be knitted or crocheted.
If you are able to contribute to this very worthwhile project we can arrange collection. Please call David Thomas on 01454 613962.


Hearing Loop Survey in Thornbury
Members of the Rotary Club of Thornbury carried out a survey in 2016 of hearing loops available in the town. This exercise followed similar activity being carried out in Swindon by another Rotary club and a previous exercise in Eastbourne by "Hearing Link" (a national charity ). The purpose of the survey was to identify and encourage installations that operate to the benefit of those with hearing aids.
People with hearing aids can have a problem hearing accurately or understanding speech, particularly in the presence of other noise. This is because the aids, while amplifying the sound, do not compensate for the reduction in discrimination that also occurs with deafness. A hearing loop provides an additional signal, detected by t-coils in hearing aids, which greatly assists the understanding of speech.
As well as encouraging managers of facilities and business premises to consider installing loops, a leaflet has been produced to make hearing aid users aware of where useful loops are. You can click here to download your copy of the leaflet, and it is now available generally in the town, at the town hall, library, hearing aid dispensers and other premises. Clear advertising of the availability of a hearing loop is a great benefit to otherwise reticent hearing aid users, of which there are many!
This survey has been carried out very much as a one time activity. Any information on new loops or other observations can be advised to the Rotary Club by email to: or text to 07902 291401.
Further information and a copy of the leaflet can be obtained on the Rotary Website.


Wanted! Young achievers for Rotary Leadership Course
Each year The Rotary Club of Thornbury sponsors a young achiever to join other 16 to 18 year olds on an all expenses paid six day long Leadership Course held in the Forest of Dean.
Whether you are a student or have started work the course offers a memorable, enjoyable and unique opportunity to learn and develop leadership and communication skills, as well as self confidence, through a series of outdoor practical exercises supported by theory and classroom discussion, with some forty like-minded young people.
Now over ten years old, the RYLA Course has proved to be a valuable and rewarding experience for all who have participated.
The RYLA Certificate awarded at the end of the course is a valuable addition to your CV.
Full details of this exciting opportunity and application forms are available on the RYLA website www.ryla1100.org or by contacting Rotarian David Thomas on 01454 613962 or , to whom applications should be sent by end of March.


Rotary Club of Thornbury supporting International Projects
Tools for Self Reliance
Thornbury Rotary Club continues to support "Tools for Self Reliance". This charity established in 1980 has a mandate to work with local organisations in developing countries to relieve poverty amongst local populations.
It helps in practical ways, giving Artisans and Craft Workers the necessary basic hand tools and providing vocational skills and business training in rural areas to allow them to earn a living and survive.
There are of course tools that cannot be used, things like imperial spanners, hydraulic jacks, typewriters, domestic power tools, most gardening tools except for heavy duty spades and shovels.
They require basic hand tools from the carpentry, plumbing, building, engineering and electrical repair industries.
If you can help please call Bob Rawlings tell 01454418673 or any Rotarian to arrange collection or delivery


About Thornbury's Rotary Club
Thornbury's Rotary Club has served the community since 1971, and has sponsored many local projects.
We help and support our community by making use of members' personal skills and professional experience.
We raise funds to donate to local, national and international projects and charities.
We meet Wednesdays (excluding Bank Holiday weeks) at Eastwood Park, Falfield.
On the first and third Wednesdays a 45-minute business meeting starts at 6.30pm - on others there is a dinner meeting, usually with guest speaker, at 7.30pm.