Thornbury in Bloom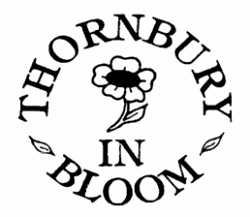 How to contact Thornbury in Bloom
For more information, contact us via Twitter #thinbloom or www.facebook.com/thornburyinbloom.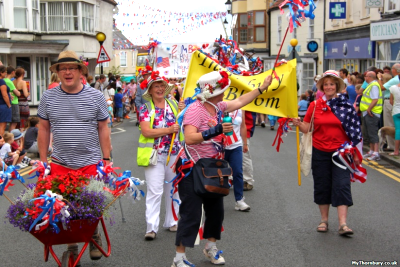 To enter your home/shop in the Thornbury in Bloom competition, please collect an entry form from Thornbury Garden Shop or T & J Owen's Florist during the Spring.
If you'd like to receive the Thornbury In Bloom newsletter by email, or to join the committee, send your email address to:


Latest News
New Wildflower Meadow
There is a lovely new project being undertaken opposite the Anchor in front of the Community Orchard where lots of new Wildflowers have been sown.
The volunteers there are doing a fantastic job as are the volunteers in the Community Orchard but they have some issues with a gate needing repair, a fence needing strengthening and extending and a bit of stone walling needing repair.
If you have any skills in this type of work and a few hours you could spare please get in touch with us and we will put you in touch with the volunteers there.


Leisure Centre Grounds
Thornbury Leisure Centre are anxious to work with the community and to support the community and finding some way of improving the grounds around the car park is very important. If you get the chance do go and look at the most amazing show of wild primroses at the end of the car park there.
We would like to set up a "Friends" group who could perhaps give some time to the ground there in a practical or fund raising way. It is a large piece of ground surrounded by woods and fields that could be a valuable wildlife resource. At the moment the shrub borders are in a poor state and litter is an issue and we need to do more work to see what can be done. If a small group of people who perhaps use the Leisure Centre, the Composting Site, Filnore Woods or Filnore Allotments on a regular basis could join together, perhaps some improvement could be made?
Any volunteers or ideas?


Colouring Thornbury
For 2017, Thornbury in Bloom is working along the lines of The Royal Horticultural Society's campaign to Green Grey Britain.
In support of the campaign our theme this year is "COLOURING THORNBURY" and we want everyone to us the brightest boldest colours they can in their floral display!


Blooming Good News!
An 11 strong team from Thornbury In Bloom travelled to the County Cricket ground in Taunton to receive the results of the 2016 South West In Bloom competition.
We had four 'It's Your Neighbourhood Award' entries, Friends of Filnore Woods received a Thriving award and The Community Garden, Daggs Allotments and The Tree Strategy group had the top award - Outstanding.
The team were overjoyed when the town was awarded a Gold medal which meant we had maintained our high standard and even more delighted to learn we had been awarded the cup in our class as the best gold medal for a town of our size.
The excitement then increased when we learnt that we had been awarded a cup for The Bruford Cup for the best non-Municipal Horticultural Display for Jack Ashton's garden in Church Road.
We were then awarded a further cup, The Sargent Trophy for our Long term effort and dedication reflecting the effort consistently put in over the last 25 years.
However the icing on the cake came when we were then awarded The Sponsors Trophy which was the final award for The Best Entry overall in the South West [excluding the Champion of Champions class].
All this was way more than we expected but it reflects the effort put in by so many people and the amount of support and sponsorship we get from the community.
Thanks go to everyone involved and we should all be very proud of our town and the amazing community spirit that has made these achievements possible.


Thornbury's Ring of Thorns
Thornbury in Bloom have brought the name of Thornbury to life... literally.
In 2015 they planted a 'Ring of Thorns' - 12 Hawthorn (May) trees on the bank outside Tesco overlooking the allotments.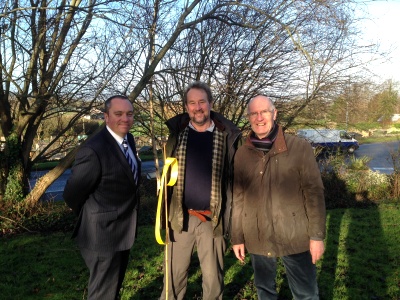 It is a piece of ground owned by Tesco and they kindly allowed us to use it and this has opened it up as a wonderful viewpoint towards the river.
The trees have been underplanted with Snowdrops, bluebells and wild primroses all of which have flowered.
The ring of thorns is a symbol to remind us that the name "Thornbury" in ancient language means a dwelling surrounded by thorns.
To celebrate the planting we had a group of children from Crossways school performing a Maypole dance inside the "Ring of Thorns".
This feature offers a reminder to everyone of the Thornbury name and a key feature for the Britain in Bloom judges when they visit us every summer.
Tesco have agreed to maintain the area going forward as part of their normal grounds maintenance activities.


A Treemendous Future!
One of the most important parts of the In Bloom competition is long term planting, and over the last few years several people have funded a tree in Thornbury as either a memorial for loved ones or as a business or society sponsorship.
The cost of a tree can be between £200 and £350 depending on the size of the tree and the variety.
If you, as an individual or as a representative of a business or community group, would like to discuss sponsoring a tree please get in touch with Judith Hurford our Tree Warden on 01454 414074 or .
The photo shows Judith Hurford and Guy Rawlinson, Chair of the Town Council Environment Committee and Chair of Thornbury in Bloom.
Judith Hurford heads a group of volunteers in Thornbury called the Tree Strategy Group, which has been recognised by Britain in Bloom for its contribution to Thornbury's green heritage, planting trees in many locations over the last five years.


About Thornbury in Bloom
We all enjoy the floral displays that brighten up Thornbury each Summer. Imaginative floral creations welcome us as we enter the town, and hanging baskets and tubs create colourful splashes throughout the town centre.
For this we have to thank the Thornbury in Bloom Committee - a group of volunteers who raise money each year to fund the displays, and work hard to plant up the various containers.
Their efforts make Thornbury an attractive place for locals and visitors.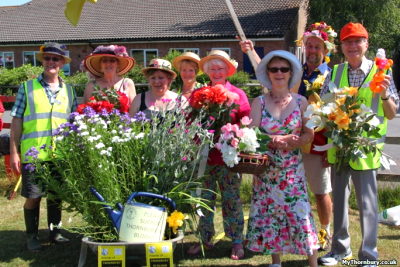 Thornbury's green-fingered experts are closely involved; Jean Owen from J&T Owen florists decorates the Parish Pump as well as other containers throughout Thornbury, and Sue Aitken from Thornbury Garden Shop fills upturned putchers - these used to be used for catching fish on the River Severn and provide a visual link with Thornbury's heritage.
You'll find the putchers around Rock Street, the allotments and at Thornbury Garden Shop.
It's not just those of us who live locally who appreciate the effort and skill that goes into creating the floral displays. The Thornbury in Bloom committee enters the Britain in Bloom competition, and regularly wins awards.
Prizes are awarded locally to businesses: pubs, shops and even industrial units take part.
There are also local prizes for private gardens, and everyone is encouraged to take part. There are certificates and garden vouchers to be won!
Each Spring the Thornbury in Bloom committee holds a Thornbury in Bloom Day, with plant stalls and collections, culminating with an evening event, which in the past has involved presentations by Chelsea Gold Medal winners such as Jekka McVicar and Leyhill Prison.