Kick Start your Fitness competition

Win a month's gym membership with personal training and massage.
Last date for entries is Tuesday 28th February 2017.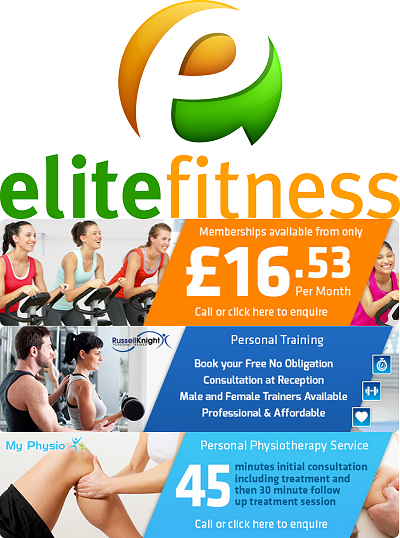 Is it time to improve your health and fitness? Kick start your fitness this year with a bumper prize package from Elite Fitness, Russell Knight - Personal Trainer and MyPhysio.
They're offering you the chance to win one month's membership of Elite Fitness Gym, four hours of Personal Training and a massage.
For your chance to win, simply send us your details using the form below, and we'll enter you into the draw.
The team behind Elite Fitness collectively has over 20 years experience in the fitness industry and knows exactly what a good gym needs in terms of quality and range of equipment.
They pride themselves on their customer service and personal approach – to them you're more than just a number.
They appreciate that everyone is different in terms of goals and experience; that's why they're equipped with a wide range of equipment to suit everyone.
After your induction, you can book in for a health appraisal where one of their friendly, qualified instructors will give you a full MOT and then write a PERSONALISED fitness program designed specifically to help you reach your goals.
To find out more, visit www.elite-fitness.co.uk, call 01454 418828 or pop in to 26-30 St Mary Street, Thornbury BS35 2AT. Don't delay, act today!